SoutheastHEALTH Welcomes Orthopedics, Sports Medicine Specialists
Orthopedics and sports medicine
|
Thursday, January 3, 2019
SoutheastHEALTH has announced the addition of a highly trained orthopedic surgeon and sports medicine/family medicine physician.
Joining the SoutheastHEALTH team are Medical Director of Sports Medicine and Orthopedic Department chairman Anthony McPherron, DO, and Sports Medicine and Family Practice physician Andrew J. Lawrence, MD. Both physicians are recognized for their expertise.
"We are pleased to welcome these experts to our healthcare team," said Ken Bateman, president and CEO of SoutheastHEALTH. "In addition to offering innovative, excellent orthopedic and sports medicine services locally, our ongoing collaboration with Washington University's Department of Orthopaedic Surgery provides access to the number one university in the nation for orthopedic research funding with more than 400 current clinical trials."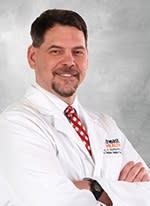 Dr. McPherron received his DO degree from Ohio University in Athens and also holds a Masters of Business Administration from Purdue University. He is board certified in orthopedic surgery and is a certified athletic trainer.
In his specialty practice, Dr. McPherron focuses on joint reconstruction and sports medicine. He is skilled in both primary and revision hip and knee replacement surgeries. He also has performed numerous cartilage transplantations and biologics. In sports medicine, Dr. McPherron performs hip, knee, shoulder and ankle arthroscopic procedures including ligament and cartilage reconstruction. Other focus areas include shoulder instability surgery, hip arthroscopy, single and multi-ligament knee injuries.
Dr. McPherron comes to SoutheastHEALTH from a specialty orthopedic clinic in Sylva, NC, where he also served as orthopedic surgeon for Western Carolina University and team physician for nine area high schools. Prior to that, he practiced in Blacksburg, VA, where he served as an orthopedic surgeon for Virginia Tech University Athletics, New York Yankees Minor League Baseball, Pulaski affiliate, and Bluefield College Athletics. He is the recipient of the Best Bedside Manner award from Our Health Magazine.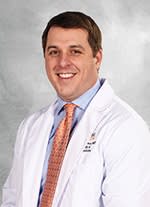 Dr. Lawrence holds an MD degree from Saint Louis University School of Medicine. He is board certified in Family Medicine and has Certificate Added Qualification in Sports Medicine. He comes to SoutheastHEALTH from the St. Louis area, where he served as head team physician for the River City Rascals (Frontier League Baseball), team physician for the River City Raiders (professional area football) and head team physician for the St. Louis Ambush (professional indoor soccer) and team physician for Parkway West High School football.
"We're always asking ourselves how we can improve quality, increase patient satisfaction and optimize the value proposition we can offer our patients," Bateman said. "The addition of this new service to SoutheastHEALTH is a game-changer for residents in this area needing orthopedic services."
D. Matthew Shoemaker, Chief Medical Officer at SoutheastHEALTH added, "By design, with the addition of Southeast Orthopedics and Sports Medicine, we will enhance the level of orthopedic and sports care by bringing evidence-based innovations in surgical and non-surgical techniques and treatments, as well as access to the best clinical trials for our patients."