Alan Welch is Not One to Sit Still
In January, 2019, he was diagnosed with neuroendocrine cancer. Given the location and involvement of the tumor, including damage to the nerve and soft tissue structures of the leg, amputation was the preferred treatment. Neuroendocrine cancer is rare. Alan puts it this way, "Most cancers have a specific color for awareness, such as pink for breast cancer. The color for neuroendocrine cancer is a zebra stripe because this cancer is so rare and no two cases are alike."
Following his successful amputation performed by Cape Girardeau surgeon Nicholas Boston, MD, and after three days on Southeast Hospital's post-operative unit, he was transferred to the Inpatient Rehabilitation Unit (IRF). Nurses there, Alan says, "are at the top of their game." Working with his IRF caregiver team, Alan worked diligently to meet all of his goals in a little less than two weeks, which included learning to walk with a walker, getting in and out of bed and performing activities of daily living.
Southeast Physical Medicine and Rehabilitation physician Matthew Karshner, MD, explains that Alan was successful with IRF therapies for multiple reasons. "His wound healed well, his previous functional status allowed for quick functional return with reconditioning, and he also successfully completed inpatient pre-prosthesis training with our therapy staff."
"Alan's positive attitude was an asset as well. He engaged challenges with enthusiasm which allowed him significant success in overcoming his impairment."
- Dr. Matthew Karshner
Proof in point about that – just eight weeks after surgery, Alan received his first prosthetic leg at a prosthetics clinic. "I walked out the door on that leg using a walker," he says. "I haven't let this slow me down. I was anxious to get up and get back to life."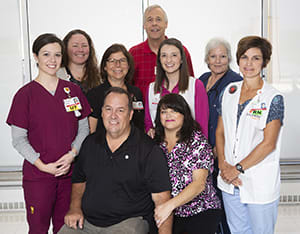 He likens his current prosthetic leg to Murphy in "Robo Cop." He says the leg mimics the gate of his real leg, making walking up and down steps much easier. The leg also can be programmed to drive, dance and even play golf.
Alan's success story is also a success story for Southeast's IRF. "This unit stands out primarily because of the percentage of discharges to home rather than a skilled nursing facility. Eighty-four percent of Southeast's IRF patients return to their homes, which is above both regional and national averages,"Dr. Karshner says.
For Alan personally, he says faith led to his positive outcome. "I can't change what happened with my leg, but I can rely on faith and a strong belief in Jehovah God." – Isaiah 41:10