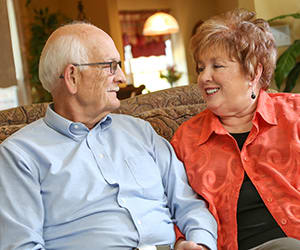 But once diagnosed, Larry immediately knew he wanted to be prepared for what lay ahead. As a former Missouri Highway Patrol officer and retired criminal justice instructor at Three Rivers Community College, Larry would be the first to say knowing the facts and learning as much as you can is important, particularly when it comes to your healthcare.
When the prospect of possible prostate cancer arose, Larry says his PSA level was a still acceptable 5.2. "The worrisome thing was that with careful monitoring, the level fluctuated."
In February 2014, Gregg Hallman, MD, who is with Urology Associates in Cape Girardeau, performed prostate surgery on Larry at Southeast Hospital, followed with adjunct therapy.
Dr. Hallman referred Larry to Joseph Miller, MD, director of Radiation Oncology at the Southeast Cancer Center, where Larry successfully underwent 39 radiation therapy treatments.
"Radiation therapy for patients with prostate cancer, like Larry, involves intensity modulated radiation therapy (IMRT)," Dr. Miller explains. "This radiation treatment allows us to deliver a highly conformal dose of radiation to the cancer while sparing the dose to surrounding tissue. This helps reduce side effects from treatments."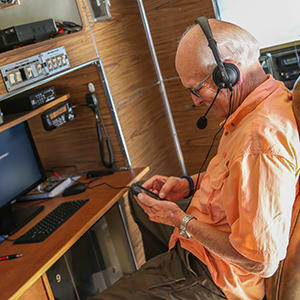 With those treatments completed, Larry is back doing what he most enjoys – working with MARS, spending time with his wife, children and active grandkids and playing with his dog "Celt," who he says "just showed up one day." He looks forward to stocking a small pond on his property with crappie and bluegill.
Best Doughnuts Ever
On Fridays during the course of his treatment at the Cancer Center, Larry brought doughnuts to the staff, who pronounced them the "best ever." He also brightened their day by occasionally showing up in fun attire such as Groucho glasses and a visor with wild hair poking out under it.
He turns serious when talking about the care he received. "The Southeast Cancer Center is unbelievable. I'm their biggest fan. Before you ever walk in, you can see that the special culture that exists there starts at the front door with the valets. What you feel there is genuine. I was there more than 40 times. If the staff 's actions and attitudes were not genuine, I would have picked up on it."
Larry says he is the self-proclaimed "president of Dr. Miller's fan club. He is outstanding. You can talk to him. You can tell he's concerned and that he cares. I've been to some doctors where you can sense they're thinking, 'I need to get down the hall.' It wasn't that way with Dr. Miller. He gave me all the time I needed."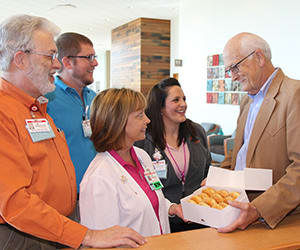 Traveling from Dexter to Cape on a daily basis for radiation was an easy trip for the most part, Larry adds. "You couldn't get any better treatment in Memphis or St. Louis. I just don't understand why people think they need to go far away when we have everything right here, close to home."
Larry's wife Marty notes that "the Cancer Center staff was so positive. They helped us stay on the road of getting through this together. It's so obvious that they care."
'Let's Go'
When diagnosed, Larry says he and Marty were very comfortable with the treatment prescribed. "She is also an upbeat person. We just decided when we found out that we would deal with it. Our attitude was let's go!
Larry treasures a card he was given by his caretakers on his last day of radiation therapy. "It said, 'We're so proud of you for doing so great. It's been great getting to know you. We are going to miss you, but we're so happy that you have this step behind you.'"
If you ask Larry about his impression of the Southeast Cancer Center and staff, he has a ready and heart-felt reply: "In this place you find care, compassion, healing and love."