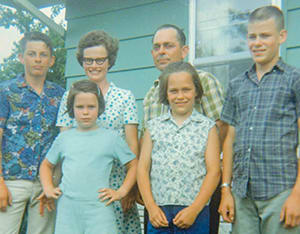 Betty Fesperman took care of her brood – and loved doing it. She ran the family farm while her husband, Don, concentrated on his career as a banker (daughter Jennifer Ewert says "on weekends, we all, my dad, my brothers and my sister, worked on the farm"). She made the children's clothes, down to their undies and winter coats. She was a 4-H leader, PTA president, and also involved in her tiny Pleasant Hope, Mo., community. She put away summer veggies and fruits to savor during the cold winter months. She enjoyed mowing her huge lawn ("she drove that John Deere like a space shuttle," Jennifer smiles). She doted on her grands and great-grands, spending hours on the floor playing games with them.
That's the kind of person Betty Fesperman was. So when she was diagnosed with stage IV colon cancer in February of 2016, Jennifer and her sister Debbie Agee discovered a quick reversal of roles. Now they were the caregivers.
As director of the Southeast Cancer Center, Jennifer is no stranger to helping counsel families about the challenges of assuming a caregiver's role. When she was thrust into the role she admits "everything was whirling. It's overwhelming."
She says that caregiving can be, in the truest sense, foreign territory for many families. "If it's the wife who needs care, her husband suddenly has to figure out meals and all the tasks she has always done. If it's the husband who needs care, now his wife has to figure out how to get the lawn mowed and what to do about a leaky sink. It's a period of adjustment."
Not Only Medical Care
It's not just care related to a medical condition that caregivers must contend with, Jennifer adds. "It's everything – personal care, laundry, getting to and from the beauty shop and church." She also knows, firsthand, that caregivers sometimes find that their own life gets lost in caring for a loved one and that it's difficult to ask for help.
Jennifer shared caregiving duties with her sister. There are no regrets. "It was one of the last gifts we could give her." Still, there were more gifts to come.
Mrs. Fesperman courageously underwent treatment at the age of 87. It became obvious that "with the treatments and side effects, Mom was not living. Even though she was fighting so hard, she was existing and the cancer was not improving," Jennifer says. After her mother and the family agreed it was time to go on hospice care, "we had seven great months together. We instituted a 'Mom's Day Out,' going to a movie or out to eat after church or over to Willard, Mo., to see the sunflower fields. Mom had a lot of quality time at the end, and that's what we hoped for."
"This experience helped me understand what others are going through even more. If you know someone who is in this situation, go to their house. Volunteer to help. Don't worry about invading their space. Help will be welcomed. Help can be showing up with a casserole or going on a walk with the caregiver."
Jennifer Ewert
Throughout their mother's illness, Debbie kept a blessing jar and did not tell her sister. "Every day, she would recognize a blessing, write it down and put it in the blessing jar. Mom died in February of 2017 and Debbie waited 10 months after Mom died to read the blessings, one day at a time. That's what it all comes down to – one day at a time and make that day as special as possible."
Tips for Caregivers
Take care of yourself and keep up with your own health needs. Make an effort to Keep doctor and dental appointments, eat healthy meals, get enough rest, exercise if you can and make at least part of each day "me" time.
When friends and family offer help, be specific about what they can do, whether it's cooking, cleaning, bringing in a home-cooked meal, shopping for groceries, yard work – the list goes on.
Join a caregiver support group. There are numerous online support groups for caregivers. Check out a few to find the right fit, someone to talk with who is in a similar, challenging situation.