Does it Run in the Family?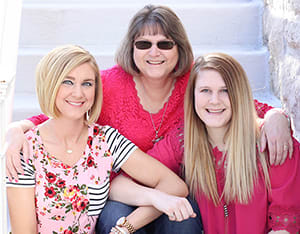 Altenburg resident Faye Ponder remembers vividly the day her doctor called and told her she carried a gene that was linked to breast and ovarian cancer.
"I was shocked, frankly," she says. "I was recently diagnosed with breast cancer myself and I just wasn't thinking there would be a hereditary issue."
But Faye's mother was just 42 when she was diagnosed with ovarian cancer. So when a small spot was discovered on her own annual mammogram in January, Ponder was asked to come back for more tests. "I had a second mammogram and then an ultrasound," she recalls. "The doctor wasn't happy about the way the spot looked, so then I had a tissue biopsy and that's when they found the cancer."
The cancer was so small that Faye didn't feel it. It was diagnosed as an early stage, but aggressive cancer. Faye's doctor suggested that she undergo genetic testing to see if she carried a gene that was linked to cancer. The test came back positive for the BRCA1 gene mutation — a genetic abnormality linked to ovarian and breast cancers.
"I couldn't believe it," Faye says. "I still can't believe it. I have two daughters and I called both of them immediately to tell them I was positive for the BRCA1 gene."
Melissa Schremp is Faye's eldest daughter. "My mom called and wanted my sister and I both tested," she remembers. "I didn't think it was going to be that big of a deal, so I went ahead and asked my doctor about getting the test. He referred me to the genetic counselor at the Southeast Cancer Center."
What is a Cancer Genetic Test?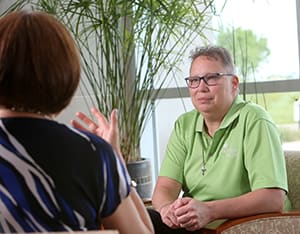 Genetic tests look for specific mutations, or abnormalities, in a person's genes that are linked to various cancers. It is a simple blood test that looks at 28 genes that are linked to eight types of cancer — breast, colon, endometrial, gastric, melanoma, pancreatic and prostate. In some cases, samples of body fluids such as saliva or tissue samples also may be obtained.
The test, which is covered by insurance, is recommended for anyone who has a family history of cancer or if a family member has developed cancer at a young age. In addition, if a mother, grandmother, or first-degree relative (aunt or sister) has had ovarian or breast cancer, family members — women AND men — automatically qualify for genetic testing. Prospective patients can either be referred for testing by their doctor or self-refer if they are concerned about any potential risk of a hereditary cancer.
At the Southeast Cancer Center, genetic testing begins with meeting nurse navigator Beth Altenthal, RN, BSN. After going over family medical history to confirm a risk of a hereditary cancer, Altenthal shows patients a short video about genetic testing. She then connects the patient by phone direct to a tele-genetic counselor who privately answers any questions patients may have.
Courtney Ponder, Melissa's younger sister, also decided to pursue genetic counseling after talking with her mom and sister. "What I appreciated was the fact that the counselor didn't tell us why we should get tested, but gave us all the facts and let us decide on our own if we should get tested or not," Courtney says.
Genetic counselors also advised on next steps if either of the sisters were to be found positive or negative for the BRCA1 gene mutation. When all questions were answered, both sisters decided to move forward with genetic testing. Blood samples were taken and sent out for laboratory testing.
In the interim, Faye talked with her siblings about genetic testing. A sister decided not to seek genetic counseling, but a brother is now moving forward with getting tested.
What are the Odds?
According to the American Cancer Society, only 5-10 percent of all cancers are "strongly linked to an inherited gene mutation."
The other point to stress, says Altenthal, is that not everyone who tests positive for a gene mutation will actually develop cancer.
"That's why it's important to discuss the results of any test with a genetic counselor," she says, "because they can help gauge the risk and discuss preventive measures before moving forward with any medical decision."
This year, 88 patients came to the Southeast Cancer Center to request genetic counseling. Of those, nine patients were found to have a gene mutation — including one of Faye's daughters.
"I did the test first," says Melissa. "The cancer center called me on April 17, 2018 to tell me I tested positive for the BRCA1 gene mutation."
Two weeks later, after hearing about her sister's test result, Courtney got a call from her own doctor. "She said my test was negative," she recalls. "I started crying for two reasons — one, because I didn't have to go through what my mom and sister were going through and two, because I was so sad that they had to go through it all themselves."
Melissa returned to the medical center for a breast MRI. A small spot was found on her breast, too. She and her husband, Brad, carefully evaluated the odds.
"If you are positive for the gene, the genetic counselor told me that there's an 87 percent chance that I'll get breast cancer or a 59 percent chance that I develop ovarian cancer. That breast cancer risk goes down to 10 percent if I have a double mastectomy and remove both breasts."
The two also discussed a hysterectomy to reduce the risk of ovarian cancer, although that's something they won't consider right now as they are planning for children. Says Melissa, "It doesn't change our mind about having children in the future because now we know they also can be tested and be proactive."
"My kids are my life," says Faye. "I think we all have a positive attitude going forward because we have God and each other. We don't look at the genetic testing as a negative. I think we looked at it as something that gave us hope, so that my kids wouldn't have to go through cancer treatment."
Melissa agrees. "I'm going ahead with the double mastectomy," she says frankly. "When you watch someone you love go through cancer treatment and you know there's a way to prevent it in yourself, it's peace of mind. I've got a life to live."