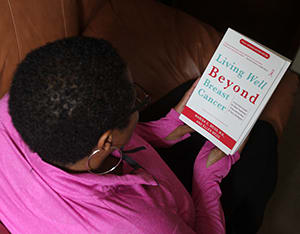 She said I needed to get a mammogram," the Cape Girardeau woman recalls. Last year, at age 44, she had a mammogram. The diagnosis: breast cancer in her right breast.
Trish says the news came as a shock because she felt fine at the time. "I had no symptoms, no pain," she recalls.
As it turned out, she's glad she had the mammogram when she did. "If I had waited another year, it could have been fatal," she says.
Battling Breast Cancer
In November 2013, Trish had a mastectomy and several lymph nodes were removed. In January 2014, she began chemotherapy treatment at Southeast Cancer Center.
"I had eight treatments over the course of 16 weeks," she recalls. Even though she lost her hair, she decided against wearing a wig. "I was bald," Trish says, adding that she wore scarves at times to cover her head.
After completing chemotherapy, she underwent radiation treatments under the direction of Joseph P. Miller, MD, medical director of Radiation Oncology at the Cancer Center.
She had 25 radiation treatments over the course of five weeks this summer. Today, Trish's cancer is in remission and she's become a self-admitted "cheerleader" for the Southeast Cancer Center and the need for women to have mammograms.
'No Excuse'
"Many in the minority community don't participate in health screenings. There's not excuse anymore. We have got to get mammograms."
- Trish Wallace
Many in the minority community know little about breast cancer and treatments that are available, she points out. "When I first told people that I had breast cancer, they looked at me like I had a death sentence," she remembers.
'Best Foot Forward'
Trish, however, refused to let the diagnosis get her down. "I had to put my best foot forward for my family and my friends," she says.
A single mother, Trish has a 22-year-old daughter, Brionna, and a 16-year-old son, Aiden.
"You have to just fight through it," she says of her battle with breast cancer. Trish's contagious optimism is reflected in a motto that decorates a wall in her kitchen. It reads, "Live, Laugh, Love."
'Treated like a Princess'
She says her cancer journey was made easier by the doctors and staff at Southeast Cancer Center. Their caring and compassion were evident every step of the way, she notes.
"I have not seen anything like the staff at Southeast," she says. "I love them." She adds, "I was treated like a princess. I am so impressed and grateful."
Trish says she received not only excellent medical care, but also plenty of hugs and words of encouragement from Cancer Center staff during her cancer journey. She and the staff shared some laughs too. "They make the best out of a bad situation," she says.
Dr. Mosley says breast cancer can be treated successfully, particularly if there is early detection of the disease and prompt medical intervention.
Positive Attitude
Both Drs. Mosley and Miller say Trish's positive attitude aided her in her cancer journey. "Positive attitudes contribute greatly to patient perceptions of how well our treatments are tolerated," Dr. Mosley explains. "These patients tend to remain far more active during treatment which allows them to have less debilitation from our therapies."
Dr. Mosley observes that Trish's upbeat mood helped her better adjust to chemotherapy treatments provided by Southeast's experienced Infusion Therapy staff.
Dr. Miller notes, "Trish's 'cando' attitude was a great advantage during her course of radiation treatments."
He adds, "Southeast Cancer Center has a long-standing tradition of delivering high-quality radiation treatments. Our Radiation Oncology team continually assures the safety and quality of our treatments, not only for our breast cancer patients but for all of our cancer patients."
Trish, who attends church in Charleston, Mo., says she feels she was truly blessed in her battle against cancer. "God, family, church and medical care – I had it all," she says with a smile.