Facing a Challenge Head On - and With a Smile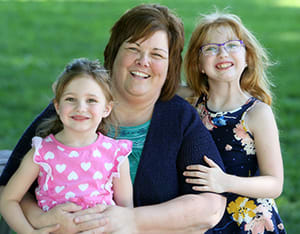 The winter of 2017 was a somber one for Jackson resident Sandy Jones. Just three months after being diagnosed with colon cancer, her aunt died.
The family – Sandy's brothers, sisters, nieces and nephews – resolved to get screening colonoscopies to ease fears of a familial trait. Sandy had her colonoscopy at age 50, right on time according to guidelines. But for Sandy, it turned out to be more than a screening. She had stage III colon cancer.
Sandy was referred to the team of experts at the Southeast Cancer Center, where she had initial chemotherapy and radiation therapy concurrently. Sandy's Cancer Center physicians, Andrew Moore, MD, Hematology/Oncology, and Joseph Miller MD, Radiation Oncology, explain.
"She was treated with chemotherapy prior to undergoing surgery to remove her tumor to help sterilize the rich vascular and lymphatic network that supplies the rectum. Recommendations for patients with stage II, stage III and some stage IV rectal cancers undergo preoperative chemotherapy and radiation."
DR. ANDREW MOORE
Fortunately, Sandy was able to choose chemotherapy given in pill form, which has proven to be as effective as infusion chemotherapy for her cancer. This is especially convenient for patients who continue to work, Dr. Moore notes.
A True Team Approach
Sandy appreciates the fact that the Cancer Center determined her course of treatment using a team approach, always with her best interest top of mind. Radiation therapy, Dr. Miller explains, "also helped shrink the cancer. And it helped eradicate microscopic disease that could be in lymph nodes and fat within the pelvis so that Kevin Bartow, MD, of the Cape Girardeau Surgical Clinic, could more easily completely remove her cancer at the time of surgery."
Sandy underwent 28 radiation therapy treatments over five and-a-half weeks, with radiation targeted to spare, as much as possible, the small intestine, bladder and hips, Dr. Miller adds.
Sandy admits her initial diagnosis "left me in shock. I did not suspect this at all." She was comforted by the outpouring of support she received from family and coworkers at Eye Care Specialists in Cape Girardeau, where she works in the billing department.
"I wanted to keep working," she says. "I'm not one to sit at home alone. And I was determined to remain positive." That she did. "One of the valets joked one day as I was coming in for treatment that 'can you come in just one day without a smile?' I couldn't. I smile a lot," she says with her signature, pretty, dimpled smile.
Sandy's attitude was, Dr. Moore, says, spot on. "With a diagnosis like rectal cancer, patients are seeing multiple doctors and undergoing multiple scans and procedures before starting aggressive multi-modality therapy. This all happens so quickly and can be overwhelming. Any semblance of normalcy is good and in many cases has a calming effect."
Dr. Miller adds, "Handling challenges and adversity is always difficult. However, Sandy approached this with an outlook of overcoming the disease and dealing with any side effects without complaint. Her courage and attitude were uplifting to all of her healthcare team."
Great Place, Great Team
The Cancer Center staff, Sandy says, "was great. They understand. They make you feel comfortable. I was a little nervous on my first visit but after that everything felt really relaxed," Dr. Moore, she says, "is just down to earth, very compassionate. It's like he has been through it and knows what's going to happen. He was always so positive, telling me 'we're going to get this.'"
The same holds true for Dr. Miller, Sandy adds. "He answered all my questions and was always concerned about how I was feeling. He gave me hope."
The End in Sight
Dr. Miller and D. Moore agree that Sandy's pre-surgery treatment did its job. At the time of her surgery in June, there was no evidence of lymph node involvement. Her surgery with Dr. Bartow was successful and left Sandy was just one, final step – a round of five post-operative adjuvant infusion chemotherapies.
She is looking forward to returning soon to her "happy place" on the sandy, white beaches in Florida and Alabama. Meanwhile, she will always be grateful for the care she received.
"I have a motto," Sandy says. "It is treat people the way you want to be treated. That's exactly what I got at the Southeast Cancer Center."