George Hawn struggled with lower back and leg pain for years. Just getting going in the morning was a huge challenge.
"Every day, I would walk from the bedroom to the kitchen slumped over," the rural Fredericktown, Mo., resident recalls.
A truck driver for more than 30 years, George's back pain began when he fell off a truck bed while securing a load of stacked propane tanks. After coping with severe pain for several months, he underwent back surgery in St. Louis. The surgery – performed 16 years ago – helped, but numbness persisted in his legs.
Over time, he started experiencing pain in his legs when he would stand. Over-the-counter medication did little to alleviate the pain.
Growing Pain and Numbness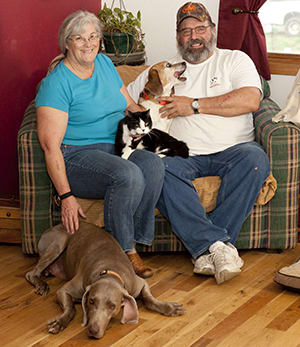 George began working for a construction company about a year and a half ago. In addition, he and his wife Kathy and their daughter Andrea Starkey operate a 127-acre farm near the Castor River, raising 25 head of shaggy Galloway cattle and 24 horses. The family also has five dogs.
"I was spending a lot of time standing," George says. Growing pain and numbness in his legs finally prompted him to seek medical help in May 2014.
George's family physician referred him to Neurosurgeon Kyle Colle, DO, of Regional Brain & Spine in Cape Girardeau and the Southeast Hospital medical staff.
Spinal Fusion
Dr. Colle initially prescribed physical therapy, but the pain and numbness persisted. On Dec. 17, George underwent spinal fusion surgery performed by Dr. Colle at Southeast Hospital.
Dr. Colle cut out a space to alleviate nerve compression, which was causing the pain. He removed the disc and replaced it with bone and a titanium spacer. Bone graft was placed along the gutters of the spine and in the disc space to enhance bone fusion.
During the surgery, electrodes were used to monitor nerve signals to avoid damaging the bundle of nerves in George's spine. "That, to me, is impressive. I felt at ease when they took him to surgery and was pleased with his care," Kathy notes.
Dr. Colle says previous surgery to George's spine made the procedure more difficult and time consuming.
Better Stability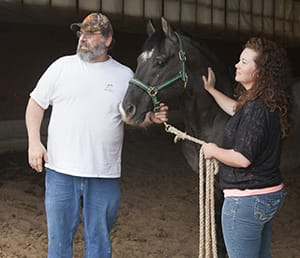 Dr. Colle utilized cortical screws for stabilization of George's spine. "Cortical screws allow for less dissection of the paraspinal musculature, which, in turn, can decrease post-operative pain," he explains.
Studies have found the use of these screws provides better stability, particularly for patients who have poor bone quality or suffer from such conditions as obesity, diabetes or osteoporosis, Dr. Colle notes.
George says the procedure performed by Dr. Colle brought immediate relief. "The numbness and the pain in the legs were gone," he remembers.
Time for Recovery
After spending several days in the Hospital, George remained off work for the next three and a half months, as ordered by Dr. Colle, to allow time for his body to heal.
George wore an electronic growth stimulator belt for four hours a day for several months after surgery to promote bone fusion. Dr. Colle says, "There are multiple studies that show it can help to assist bone fusion, but nothing takes the place of good surgical technique and proper preparation of the disc space and bony elements for proper fusion."
In March, George began going to the gym to strengthen his muscles. "I worked my legs a lot and I worked my upper body quite a bit," he notes.
George returned to his construction job in early April. He says he looked forward to returning to work and handling chores on the family farm. "Dr. Colle told me I could lift one milk jug and then two milk jugs," George recalls with a smile. Today, he can lift much more than milk jugs.
'Very Good Experience'
George says he received excellent care from Dr. Colle, the staff at Regional Brain & Spine and the nursing staff at Southeast Hospital. Dr. Colle answered all of his questions and put him at ease. "Dr. Colle didn't pull any punches. He was straightforward," George explains. "I just think the world of him."
George says he's glad he had the surgery. "It was a very good experience. I just wish I would have done it years ago."