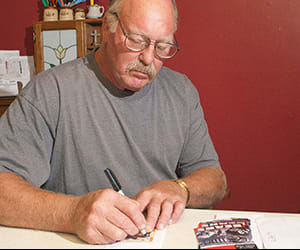 You can ask Dan Peiffer about the maple syrup he makes after tapping maple trees on acreage he owns. "I'm told it's the best," he says, offering a sample. He's right.
You can ask Dan Peiffer about the cabin he built and he'll tell you it comes in handy during hunting season and for hosting fish frys – and that his fish is pretty darn good.
You can ask Dan Peiffer about his seven seasons as a pro football player and he is surprisingly modest. "Playing pro ball was always something I wanted to do, but something I never thought I would get to do," he says. Football and Dan came together in a roundabout way.
The first high school football game he saw was when he made his field debut as a freshman at his small Iowa school, which until then did not have a football program. The sport immediately clicked with Dan and he went on to play at Ellsworth Community College in Iowa Falls. Dan's football prowess caught the eye of Southeast Missouri State University Football Coach Dutch Myer, who recruited Dan as an offensive lineman.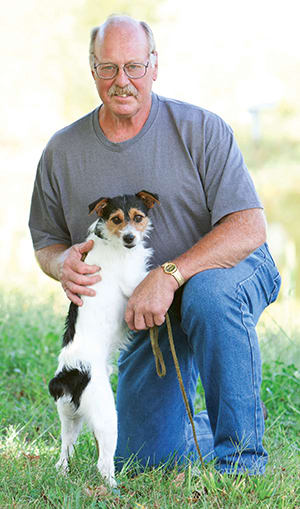 After graduating from Southeast, Dan first joined the NFL with the St. Louis Cardinals in 1973. He was cut from the Cardinals but went on to the fledgling World Football League in Orlando, Fla., playing one season with the Florida Blazers. He signed with the Chicago Bears in 1975, winning fans over as one of the most popular players during his four years as a center. After taking a break from football for two years, Dan signed with the Washington Redskins and played two seasons in the nation's capital.
Over what were most certainly rough-and-tumble seasons (Dan says back then "We treated helmets like weapons"), the popular Bears player had his share of major surgeries – 11, to be exact, with most of them on his knees.
During his pro years, Dan called many cities home, including St. Louis, Orlando and Chicago. While it was exciting to be on the field, Dan especially enjoyed interacting with children. "I enjoyed signing autographs for them, seeing their eyes light up." He also enjoyed giving memorabilia to his young fans, which explains the lack of it in his Jackson, Mo., home, save for battered Redskins and Bears helmets, a few trading cards and an award-winning photo that also hangs in the NFL Hall of Fame in Canton, Ohio.
By choice, Dan ended his pro career after the Redskins' 1981 season. Even though he admits the coach implored him to stay on one more season to mentor new players, "I was tired of rehabbing and surgeries. It was time."
Fast forward. Dan found his sweetheart Connie, who is a registered nurse, at the Frohna Picnic in 1981. They married in 1986 and are the parents of Amanda, who graduated in December from Logan University College of Chiropractic in Chesterfield, Mo., and Blake, a Southeast Missouri State University grad who is employed by his father's former employer Lone Star Industries.
Sidelined
Several years ago, Dan developed an irregular heart rhythm, AFib. "It felt like the symptoms of a heart attack without the pain," he says. "I had shortness of breath, sweating, no energy. I felt like there were two rats in a cage chasing each other in my chest."
For Dan, episodes of AFib lasted anywhere from six to 18 hours. "I finally admitted that it was affecting everything I was doing. I didn't feel like mowing or bush hogging or working on projects in my shop."
ECG of a Heartbeat
NORMAL
WITH ATRIAL FIBRILLATION
Why treat AFib?
How do I know if I have AFib?

There are many good reasons to treat atrial fibrillation:

People with AFib are five to seven times more likely to form blood clots and suffer a stroke.
AFib is associated with fatigue.
Rapid and irregular heartbeats can make your heart larger and weaker over time.
A larger and weaker heart does not pump blood to all areas of your body very efficiently and can lead to heart failure.

Some people experience symptoms such as:

Heart sensations or palpitations which may include irregular, thumping or pounding heartbeats
Feeling that the heart is racing
Chest discomfort or pain
Fatigue, shortness of breath or weakness

Some people have no symptoms of AFib at all and discover they have the condition at a routine doctor's visit.
Dan was referred in 2008 to Cardiologist Gabe Soto, MD, PhD, of Cardiovascular Consultants. They agreed on a first step: Manage his AFib with medications. Like many others, he did reasonably well early on, Dr. Soto says. "But medications are effective long term in about half of the patients. The other half are not managed as well and need to consider more advanced treatments."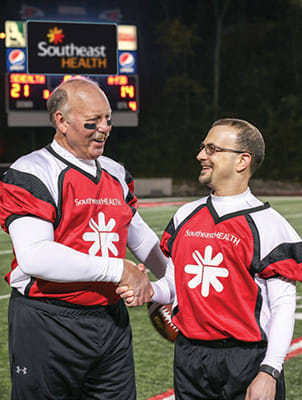 Dan fell into the second half and began having "break-through" episodes. During a visit to Dr. Soto, his heart was caught racing at 150 beats per minute. The normal rate is 60 to 100 beats per minute. In January 2013, Dan elected to undergo cryoablation, a minimally-invasive procedure using the highly-sophisticated Arctic Front® Cardiac CryoAblation System.
Unlike traditional treatments that use radiofrequency-generated heat to eliminate faulty electrical circuits in the heart, this procedure involves the use of a balloon catheter which inflates and fills with coolant to freeze and ablate the tissue, blocking the conduction of electrical signals that trigger atrial fibrillation.
Another plus, Dr. Soto says, is while the traditional radiofrequency procedure for AFib lasts three to four hours, the cryoablation procedure can be completed in half the time.
Residents in the region don't have to go to St. Louis medical facilities to receive the finest in electrophysiology services to diagnose and treat cardiac arrhythmias, Dr. Soto points out. SoutheastHEALTH has a dedicated, highly-trained, experienced electrophysiology team to care for patients. That excellent care is reflected in the fact that Dr. Soto performs about 250 ablation procedures a year.
Like most ablation patients, Dan had just a one night stay in the hospital. Better yet, Dan's heart was in proper rhythm. "After just a few days, I had my energy back," Dan says. "I felt like I could do all those things that I could not do before."
Dr. Soto continues to monitor Dan. "I think a lot of him," Dan adds. "He's a good guy. He also says he would "highly recommend" the procedure to others coping with AFib. "It sure makes a difference in how you feel and gets you back in the game – and that's what everyone wants."
Flow of Electrical Signals in a Heart
The heart has four compartments or chambers. The walls of the heart squeeze together (contract) to push blood through the chambers. The contractions are controlled by an electrical signal that begins in the heart's natural "pacemaker" called the sinoatrial node. The rate of the contractions is influenced by nerve impulses and hormones in the blood. A problem in any of these can cause an arrhythmia.
| NORMAL | WITH ATRIAL FIBRILLATION |
| --- | --- |
| | |