Miguel de Cervantes, the Spanish literary great and author of Don Quixote, considered by many to be the first and finest novel ever written, once wrote, "There's no taking trout with dry breeches."
Cathy Raines takes that phrase to heart as often as she can. Raines, an enthusiastic trout fisherman, was found recently with high waders on in the middle of the Current River at Montauk State Park casting a line out for some rainbow trout and relishing the fact that she could stand in the current with a firm stance.
"I'm living life to the fullest now," she says. "I didn't think I could do this again until I underwent two knee replacements last year."
Raines had been in pain for years prior to her surgeries. She pins down the day it all began to a time in 2018 when she was fishing in the White River. "I started to step off into a deep hole. When I backed out of the hole and turned and headed up, I felt this excruciating pain in my left knee."
It turned out she had a fractured the long shinbone in her leg, the tibia, and tore a part of the cartilage in her knee called the meniscus. She went to St. Louis, where a doctor there injected cement into the fracture and bio-cartilage into her knee to repair the damage.
"I went to physical therapy and the pain just kept getting worse," Raines says. "Then, when I was going to therapy one day, I stepped up into our SUV and tore the meniscus in my right knee. I had two bad knees!"
In February 2019, she turned to Southeast Orthopedics and Sports Medicine, where a team evaluated her x-rays and discussed options. Conservative treatments were tried first, with sports medicine specialist Andrew Lawrence, MD, giving Raines cortisone shots. The consensus, though, was that the shots would only be a temporary fix. Two months later, Dr. Lawrence referred Raines to orthopedic surgeon Dr. Anthony McPherron. Total replacement of both knees was recommended.
"At first, I postponed the thought of knee replacements because I had so many trips planned with my family and grandkids," she says. "We went to Gulf Shores, Montauk State Park, and went on camping trips to Sam A. Baker State Park. We also did a large family trip to the White River over 4th of July, but because of my constant pain, I missed out on a lot of the family activities."
After that trip, Raines felt she had nothing to lose, undergoing a total knee replacement in August 2019 and then again, two months later, in October.
While in outpatient physical therapy, Raines couldn't believe the difference. "I was bending my knee 115 degrees the day after one of my surgeries," she says. "Now, I can bend both knees 130 degrees."
"We have what I call a Get Better Fast program for rehabilitation after surgery," explains Dr. McPherron. "It begins with a specialized surgical technique and the latest in implant technologies and then adds an aggressive physical therapy regimen. Patients have to buy into the program, believe, and put in a lot of hard work, but it definitely results in successful outcomes."
Raines was fierce during therapy, pushing herself to recover. She was thrilled the pain in both knees was finally gone. On a cold day in January 2020, three months after the second surgery, Raines and her husband, Alan, traveled to Petit Jean State Park in Arkansas where they hiked a rugged trail. "I took a deep breath and was so thankful I could be outdoors with him," she recalls. "It was wonderful."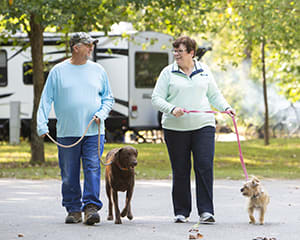 After COVID restrictions were lifted, she and Alan went back to Montauk State Park. Without hesitation, she pulled her waders and bulky boots on and stepped into the river with her fishing pole. She remembers that moment clearly and gets emotional when she thinks about her journey through the pain.
"I was in so much pain before and I was so miserable," she says softly. "If I thought I had to live like that, it would be horrible. But now, Alan and me, we have our time together and we are doing exactly what we have worked so hard for so many years to do."
She adds, "I'm retired, enjoying life with Alan, our kids and grandkids. And yes, when we go to watch their sporting events, I can go all the way to the top of the bleachers!"
---
Think you need to see an orthopedic or sports medicine expert? Request an Ortho Appointment