Grief Transforms to Gratitude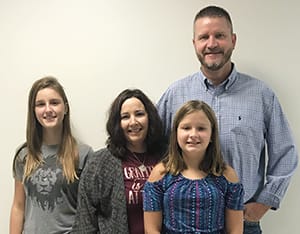 It has been almost 20 years since Nicole Pyrtle suffered the miscarriages of three sons, but the memory of the loss still brings tears to her eyes. In 2000, she and her husband Merlin were expecting twin boys. "I miscarried the twins separately…one in September and one in November," Nicole shared.
Two years later, the unthinkable happened again. Nicole went into labor at 20 weeks into her pregnancy and was rushed to Southeast Hospital where they lost their third son.
With the twins, she was admitted to Southeast on a medical floor, not OB. "When I was discharged," Nicole explained, "I received a packet of materials about miscarriage, but I couldn't bear to look at it for several weeks. After the holidays were over, I read the information and found out about a national organization called Share. That was in the days before a lot of information was available on the internet, so I read all the printed material Share provided in order to find ways to cope with our loss."
When Nicole went into early labor with their third son in October of 2002, she was taken to the OB Unit at Southeast. That is when she met Gayle Unverferth and Cindy Rigdon. "I am so grateful those nurses came into our lives," smiled Nicole. "I immediately felt their love and support. They took excellent care of me, both physically and emotionally, as my husband and I faced the loss of our baby." The women took photos of the baby and castings of his hands and feet –now cherished mementos of their son.
As experienced obstetrics nurses, Gayle, Cindy and Linda Logan knew all too well the anguish of parents who lose a child by miscarriage, still birth or infant death. With the backing of the Hospital, the women organized a local chapter of Share to provide support services to grieving families. Fortunately for the Pyrtles, this local Share group began meeting in December of 2002. "At first, my husband didn't want to go, but he knew how much it meant to me. We attended every meeting. It gave us a place to talk and share with others who had the same experiences."
The Share walk came about as a result of these first meetings. Nicole and Merlin were involved from the start and helped organize the walk. Each year, families gather at a memorial service to hear the reading of their babies' names and then walk together for one mile, signifying the steps the little ones were never able to take. "It was so healing for me," said Nicole. "It was a pivotal point in my grief process. Something shifted as I had the opportunity to remember those babies and hear their names read out loud."
The Pyrtles were later blessed with the births of two healthy daughters who are now 11 and 15 years old. "We have always shared the story about their brothers with the girls," said Nicole. Today, their family is a happy and busy one.
But even as the years have passed, Nicole and her husband remain active in the walk. "We have only missed a couple walks in the past 17 years," she said. It is in gratitude for everything Share offered to the Prytles that they continue to support the organization.