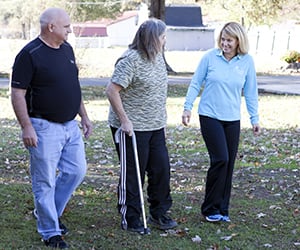 Physical Therapist Tracy Hedrick carefully monitors how Debbie Presley walks down the stairs of her home in Risco, Mo.
"Let's turn around so that you can hold onto the column as you come down," Hedrick says as Debbie begins to walk down the concrete steps outside the front door. Debbie, 61, is recovering from a total knee replacement procedure that she underwent in early October. Debbie takes advantage of in-home rehabilitation services provided by Southeast Home Health – Dexter to restore the mobility and strength in her left leg.
"They help instill confidence in myself," she says of the nurse and physical therapist who came to her home three times a week for several weeks. "They always answered my questions and they worked as a team to get me up and moving again."
Hedrick has taken care of both Debbie and her husband Mike, who underwent total knee replacement himself last August. "My goal is to be quicker than him to get back to all the daily activities," smiles Debbie.
Both had degenerative arthritis, which had worn down their knee joints. Mike Presley, a unit operator at the Noranda Aluminum plant in New Madrid, Mo., for more than 28 years before retiring in 2015, says he waited too long to replace his knee. "My knee was just worn out completely," he says. "It started to give me problems about four years ago and for the last two years, I was in constant pain."
In addition to arthritis, Debbie was diagnosed with a large cyst in her knee that eventually burst, causing a bone fracture and the loss of critical joint fluid that cushioned her bones.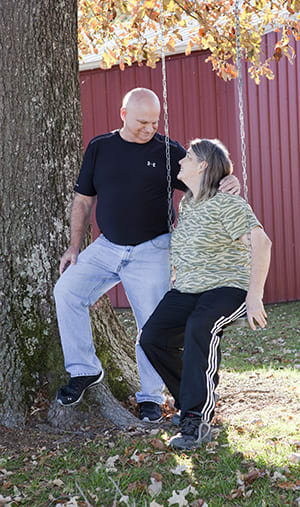 For both of them, Southeast Home Health collaborated with their orthopedic surgeon on a comprehensive home therapy plan designed to optimize the Presleys' recoveries and minimize the risk of any complications such as infections.
"In a patient's home, you see exactly what's needed and can customize the care plan accordingly," says Hedrick. "For example, in every home, each bathtub, doorway or set of steps can be different. Patients also have to learn to move safely around specific obstacles to prevent falls. We can assess that on site and then personalize the therapy we offer to address those situations."
Personalized care is definitely what the Presleys feel they have received. They consider Hedrick a part of their family now, even swapping recipes with her whenever Hedrick smells something good cooking on the stove.
Back outside after her latest therapy session, Debbie carefully uses a cane to walk and check on the Freedom Express Coachman RV that is parked in her side yard. Avid campers, she and her husband of 41 years are looking forward to warmer weather and the opportunity to camp and relax by themselves or with other family members near Lake Wappapello along the St. Francis River valley. She pauses to sit on a nearby swing with Mike at her side.
"These Home Health folks really go above and beyond in how they treat us," says Debbie. "Tracy has the personality to really encourage us to do our exercises and get better. That's so appreciated."