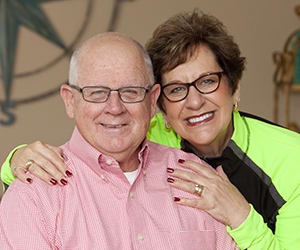 Connie Hampton was already physically stressed by a home move from Malden to Dexter, Mo., when she started experiencing chest tightness and fatigue. The former high school physical education teacher and retired director of Three Rivers Community College in Malden, Mo., initially chalked up her discomfort to muscle strain or a gastrointestinal problem.
The former high school physical education teacher and retired director of Three Rivers Community College in Malden, Mo., initially chalked up her discomfort to muscle strain or a gastrointestinal problem.
A nagging feeling persisted and she finally scheduled an appointment at Southeast Family Medicine of Dexter with Family Nurse Practitioner Judy Pedigo, RN, BC, FNP, CDE. "She had all the classic signs that it may be something related to her heart, so I wanted her to see a specialist," says Pedigo. "She also had a strong family history with her father and his brothers all having heart issues and her father dying of a heart attack in his mid 40s."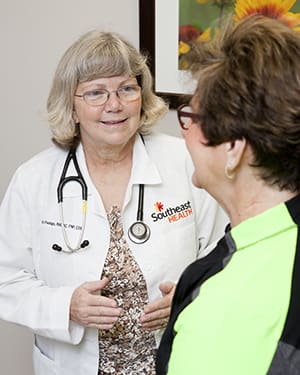 She was referred to Cardiologist Kenneth Retter, MD, of Cardiovascular Consultants in Cape Girardeau, Mo. "While men and women can have different presentations for symptomatic coronary artery disease, Connie had a fairly classic presentation," says Dr. Retter. "She had intermittent episodes of exertional tightness or heaviness in her chest that radiated to her left arm, which is consistent with angina. Symptoms progressed to the point that she was having episodes with exertion and at rest, which is consistent with unstable angina. In light of her increasing symptoms and her family history, a coronary angiogram was the best test for her after my initial evaluation."
After the angiogram, Connie, 64, was shocked when her doctor told her the news. "Dr. Retter said I had blockages in four major arteries," Connie recalls. "Even though I never had a heart attack, I was a walking time bomb and didn't even know it."
She underwent heart bypass surgery in early June 2015 performed by skilled Cardiothoracic Surgeon Paul Robison, MD, MMM, FACS, FACC, FACCP, of Southeast Cardiothoracic and Vascular Surgery. She began cardiac rehabilitation a few weeks later. "I kept thinking, this can't be happening to me," she says as she shakes her head. "I was determined, though, to come back to full speed and take good care of myself."
Cardiac rehabilitation programs focus on providing heart patients with customized exercise programs designed to help them recover from a heart related event and reduce their risk of recurrent problems. They also have a strong educational component, offering information about healthy eating and the importance of staying active. Patients meet regularly with registered nurses, an exercise physiologist, a respiratory therapist and a registered dietitian.
"I tell my patients that I'm an educator and not a preacher," smiles Jo Crouthers, RN, who oversees Southeast Cardiac Rehabilitation at Southeast Health Center of Stoddard County. "We get patients used to the idea of activities versus exercise and the importance of finding things that they enjoy doing. That helps with long-term compliance to remaining active and healthy."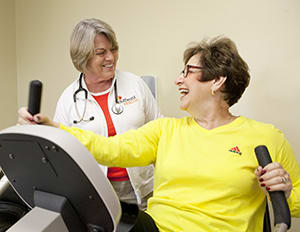 Typically patients are in cardiac rehabilitation for eight to twelve weeks after they are discharged from the hospital. Some, like Connie, however, return for ongoing rehabilitation services long after they have completed their initial program. At the Dexter cardiac rehab facility, some patients have been coming for almost four years.
"I think I'm a life-er," Connie laughs as she walks on the treadmill. "I am here a couple of days a week and, if I'm not, I miss it. Usually on the days I don't come, I'm out walking in the neighborhood with one of my friends."
On a recent return visit to see Judy Pedigo, Connie hugged her. "She's my life saver. That's for sure," Connie says."Judy is one of my former high school students
and I'm so grateful she pointed me in the right direction so that I could get well." Pedigo hugs her back and says softly, "I think it makes you feel like you served a purpose in life, that you did good. I'm so glad to see her back to laughing and smiling again."
Following in Her Footsteps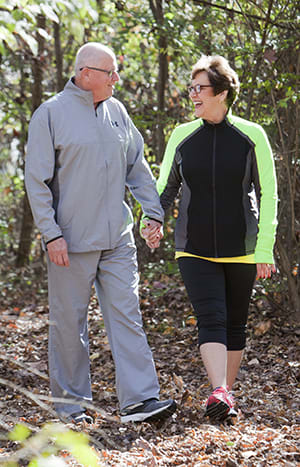 Fast forward from summer to the fall high school football season in Dexter. Connie's husband Bill, the director of Three Rivers Community College in Dexter, was serving as the emcee for the annual community tailgating event at the Dexter Bearcats homecoming game. "I was on a flatbed trailer and decided to step down so that I could walk around and talk with everyone," he says. "There were no steps off of the trailer so I stepped onto a trunk, which suddenly fell over. I ended up falling onto the concrete and getting hit smack in the center of my chest."
Bill passed out and, when he came to, he says, "It felt like the whole world was sitting on my chest." After passing out a second time, Bill was taken by ambulance to Emergency Services at Southeast Health Center of Stoddard County in Dexter, but not before he and Connie said a prayer for healing. "I couldn't have been treated any better than if I was the president of the United States," says Bill with tears in his eyes. "The ambulance personnel and the hospital folks were just wonderful."
An emergency echocardiogram pointed to a heart issue and, just like Connie, Bill was sent to Southeast Hospital in Cape Girardeau. It turned out to be déjà vu: Bill was diagnosed with major blockages in his own heart. "Because of the nature of my blockages, I am able to be treated with medicine, diet and cardiac rehabilitation," Bill says. "So here I am, following Connie to cardiac rehab at Southeast in Dexter.
He also had to recover from two cracked ribs. "The ambulance people came by twice up in Cape Girardeau just to check on me while I was in the Hospital," he notes. "Just knowing that our town has such wonderful people is so special to me."
Both Connie and Bill strongly believe that their individual experiences are a "God thing." "Neither of us knew we had a problem, but we received the best care possible – both in Cape and in Dexter," Connie says as she looks at her husband. "We feel very blessed and thankful that we can spend time together."
Adds Bill, "We really enjoy life to the fullest and our experiences make us realize that we have a great community resource in SoutheastHEALTH here in Dexter. They really took care of me – of both of us – and yes, we are very blessed."