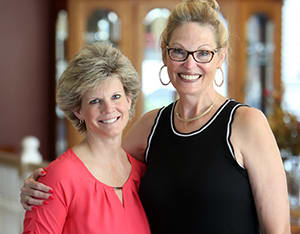 Donna Ward's home is filled with memories — photos of her parents, paintings made by her dad and furnishings used by her mother. The love and respect she gives to these mementos shows in her eyes, which light up whenever she tells a story about Don and Norma Walz.
"My mom and dad were a true love story," she says fondly. "They were married for 46 years and were never apart until near the end."
Although her mother had been treated for cancer twice and her father had never been in a hospital, it was Don Walz who sat down with Donna and her brother in December 2008 and told them he was diagnosed with Alzheimer's disease.
"He'd known about it for four years, but didn't want us to worry, so he kept it to himself," says Donna. "We had a family meeting after that and we decided to move mom and dad here to Jackson from Jefferson City so that they could be closer to family."
They made the move in March 2009. "To give you an idea of how fast his health declined, he was still skiing the black slopes, the difficult slopes, in the mountains when he was 75 years old," recalls Donna. "And then, four years later, we were faced with Alzheimer's and the stress that comes with helping him with that diagnosis."
Donna started talking to one of her friends about the struggles of caring for her father in the home. Her friend told her to call Southeast Hospice.
"The minute she said hospice, I started crying," Donna says. "In my head, I equated hospice with death, but she told me that it's not about death, it's about helping us be better caregivers with love and support."
Help When It's Needed Most
Hospice social worker Lynn Boren, BSW, compassionately took the reins of Don's care. She helped Donna and her mother wade through medical and insurance paperwork, arranged for personal care aides and hospice volunteers to sit with Don so that the rest of the family could take breaks from being 24-hour caregivers, and set up systems so that Don could wander around his home safely. Hospice chaplains would also stop by to provide spiritual comfort. "They'd even stay to sing with my dad sometimes," laughs Donna. "It made him very happy."
When he could no longer be cared for at home safely, Southeast Hospice found a skilled nursing facility and coordinated Don's transfer to a room there.
"I'll tell you, if I had to define hospice now, I would say that they were angels," says Donna. "They helped us all through a difficult time and made sure that my dad was treated with dignity and respect at all times."
For months after Don passed in 2010, Southeast Hospice arranged for bereavement counselors to visit Norma and Donna. "Crystal Montgomery, LSCW, the bereavement counselor, came out monthly for more than a year to talk one-on-one with mom and me," Donna recalls. "We also went to grief support group meetings. It was so incredibly helpful."
Eight months after Don passed away, Donna's husband Todd asked Norma if she wanted to move in with their family. Says Donna, "She loved the idea and stayed with us for about five years before she also started to have declining health issues."
Evenings were often spent with Norma and Todd watching Wheel of Fortune on television. "It was our thing and we had a great time," says Todd.
Once Again, Hospice Steps in to Help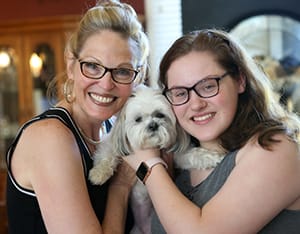 Norma suffered two strokes before making the decision herself to move to a nursing home in 2015. Once again, Southeast Hospice assisted with all of the details. Six weeks later, Norma passed away peacefully.
Through it all, Southeast Hospice recognized that Donna and Todd's young daughter, Lily, also needed help with handling a death in the family. Lily grew up with her grandmother living in her home and was just 11 years old when her grandma died.
"Grandma was a spitfire," she says, laughing. "The whole family would go with her on trips, like when we went to New York one year for Christmas. We would hang out in her room and have a lot of fun!"
To help her understand death and cope with the loss of her grandma, Donna enrolled Lily in C.O.O.L Camp, a one-day bereavement camp for kids between the ages of 6 and 15. The camp is free of charge and includes a time for parents to also participate. "I made this great memory box at camp," says Lily. "It also got rid of me asking myself 'why is grandma gone?' It really gave me a sense of peace after it was all over."
Donna hugs her daughter close. "You know, we were never a job to anyone at Southeast Hospice," she says. "We were a family. They cared as much as we did for my mom and dad and helped us all."
She adds, "I would tell anyone that was hesitating about calling hospice, to go ahead and do it. What's the fear? Everyone dies, but we don't know when. With hospice care, you don't have to go on this journey alone and it gave us hope that we can all have the dignity that comes with death."