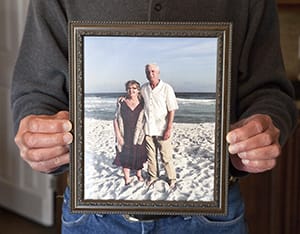 Mackey Smith remembers the tough times, caring for his terminally-ill wife Regina. What he also remembers is that he and his adult children didn't have to deal with it alone. They had the help of Southeast Hospice.
"I feel very blessed. Southeast Hospice always will have a special place in my heart"
- Mackey Smith
Regina died on Feb. 8, 2014 at the age of 66 after a long battle with kidney cancer.
More than a year after her death, Mackey still chokes up when he talks about his loving wife. He says they were "high school sweethearts," just not at the same school. He attended Woodland High School near Marble Hill, Mo. She attended Zalma (Mo.) High School.
They were married for nearly half a century. They moved around, living in a number of different towns before finally settling in rural Jackson, Mo. They also found time to relax at their Lake Perry house in neighboring Perry County.
Mackey still owns the lake house. Retired from the Procter & Gamble plant, Mackey works part time, managing the private utilities at the lake which is home to about 300 people. "I love it up there," he says. Mackey is the brother of Lloyd Smith, the longtime chief of staff of the late congressman Bill Emerson and former congresswoman Jo Ann Emerson. Mackey says he and his brother still regularly talk politics. Talking about his late wife is much harder.
Battling Cancer
Diagnosed with kidney cancer in 1999, Regina underwent surgery to remove the cancer. Years later, the cancer spread to an adrenal gland and subsequently it was found in one of her lungs.
"She had part of the lung removed in 2005," recalls Mackey. She underwent chemotherapy. In 2010, her oncologist told her that the medicine wasn't working. "She went on Hospice," Mackey explains.
With the care and support from the Southeast Hospice team, Regina lived for more than three years before she died from her disease. "I didn't think she would make it six months," Mackey says. "Nurses came out to our home twice a week and checked on her."
Laugh, Cry and Pray
Southeast Hospice was able to manage Regina's pain and other symptoms related to her disease. In addition, the Hospice staff provided heartfelt compassion. "We would all laugh, cry and pray together," he recalls.
Donald Edwards, MD, medical director of Southeast Hospice, visited Regina in her home on a monthly basis. Dr. Edwards remarks, "We were fortunate to know Regina and Mackey long enough to establish a relationship of trust and respect."
Dr. Edwards says he works with "a dedicated, compassionate group of healthcare workers." He explains, "Our goal is to provide comfort care to those at the end of life." Hospice care is provided largely in the "home," including nursing homes and assisted-living facilities. Care is provided to patients by a skilled team of nurses, physicians, social workers, chaplains, nurse assistants and volunteers.
Southeast Hospice Social Worker Vicky Hyslop, MSW, says she has dealt with terminally-ill patients ranging in age from 2 weeks to 108 years.
A Beautiful Soul
Hyslop says she was privileged to care for Regina and assist the Smith family. "She was just a beautiful soul, a good wife, mother and grandmother," she adds. "With Hospice, we have the honor and privilege of sharing in our patients' lives, hearing the wonderful life stories, seeing the love and commitment and working together to make a difference."
"The whole idea of hospice care is to help control the symptoms of the disease to provide quality time for the patient and family," Hyslop explains. "We take a very holistic approach."
Hyslop adds that patients and their families can reach out to Hospice staff 24 hours a day. "Sometimes the very best medicine is love and support," she notes.
Songs and Family Pictures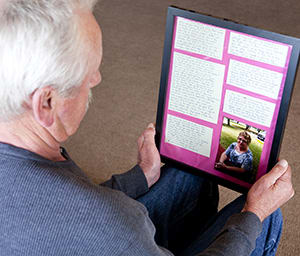 Hospice Chaplain Stan Hargis brought his guitar and singing voice to the Smith home. During his visits, he played and sang gospel songs. On some occasions, Regina sang along. "She seemed to have a really strong faith," he remembers, adding that the songs seemed to lift her spirits.
He regularly sings and plays the guitar and banjo to comfort patients and their families. "I offer hope and encouragement in any way that I can," he adds. "I will do my best to play whatever they want."
Hospice Nurse Jill Essner, RN, CHPN, visited the Smith home frequently to check on Regina and the family. Essner says she grew close to Regina. "We became friends. When I visited, she would share family stories and pictures."
Essner says, "I believe that the journey at the end of life is a physical, emotional and spiritual one. I strive as a hospice nurse to help my patients and families in all aspects of their journey."