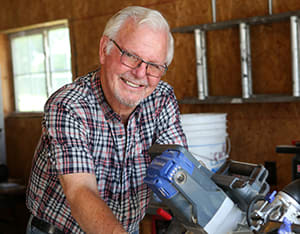 The first thing that happens when Larry Taylor opens the door of his Scott City home to visitors is an extended hand with the genial directive, "Call me Larry." You also can call Larry a hard worker, an adventurer, a talented master woodworker, a man of faith and family and a man who wouldn't let cancer stand in the way of his life.
Larry grew up on a farm and from a young age was no stranger to hard work. He longed for adventure – and got it. The day after he turned 18, Larry went to St. Louis and joined the Army. Six months later, he was in Vietnam working support for the infantry. Following his Army stint Larry settled into careers with a major manufacturing company, an upscale furniture retailer and, most recently, a grocery wholesale distribution company. Along the way, he became a self-taught master woodworker. He turns out remarkable, one-of-a-kind pieces in his garage workshop, where he says if "I can't do it by hand, it don't get done."
A busy man, Larry Taylor, but not too busy to watch out for his own health. Unlike many men, Larry has a physical every year. In 2013, his Prostate-Specific Antigen (PSA) was 2.0, but by 2016 it had risen to 6.0 (4.0 or lower is considered in the normal range). "We knew something was not quite right," says his wife Sheila. That concern was confirmed when Larry was diagnosed with prostate cancer at a Veterans Administration medical center. Larry, 70, accepted the cancer diagnosis stoically, but with a heaping serving of faith added in. "Everything happens for a reason," he believes. "God has a plan."
Stay or go?
The Taylors weighed options on treatment avenues, which included surgery, radioactive seed implants or radiation therapy. "We did research and found that all three of these options have a success rate of 95 percent if caught early enough, "Sheila notes. After discussing it, the couple settled on radiation therapy which the Veterans Administration would arrange in St. Louis.
"I started thinking that I didn't want to drive to St. Louis for 39 radiation therapy treatments," Larry says. "Why travel such a distance when we have everything here, close to home. So I did my homework on the Southeast Cancer Center and called Dr. Joseph Miller." Dr. Miller, radiation oncologist at the cancer center, accepted Larry as a patient.
"So we went from a two-hour drive to an easy, 15-minute drive to the Southeast Cancer Center," Larry adds. It was apparent from the beginning, Larry says, "that Dr. Miller is a wonderful doctor. He's very compassionate, very forthright and he cuts up a little bit, too."
"Larry's treatment involved intensity modulated radiation therapy (IMRT). This radiation therapy treatment allows us to deliver a highly conformal dose of radiation therapy while sparing the dose to surrounding tissue. This helps reduce side effects from treatment."
- Dr. Joseph Miller
The Taylors remain impressed with the caring atmosphere of cancer center staff. "All 39 times when we arrived and walked in, everyone was cheerful. They greeted us as friends. It was like going to Walmart and running into neighbors you see there," he says with a smile. "The greeters at the door, the receptionists, the nurses – they're all wonderful. They try and make you as comfortable as possible."
Sheila accompanied Larry to every treatment. "I needed to be there with him," she says. "I want him around for a long time." As a caregiver, she says received the same compassionate care that Larry received, something she appreciates very much.
During treatment, Larry experienced some fatigue, but refused to let go of his daily routine. "I was not going to sit in a chair and wait to die," he notes. "My morning routine included walking around three miles, sometimes as early as 4 a.m., seldom later than 5 a.m. I didn't sit around and dwell on it. I would take Chewy (the family pooch), see people and talk to the Lord."
Larry completed his radiation therapy in September 2016 and has now graduated to annual follow-up appointments with Dr. Miller. "I'm feeling good now," he says. He and Sheila are enjoying time with their blended family of four adult children and 13 grands. Larry is drawing new patterns for woodworking projects. The couple enjoyed a vacation in Branson, Mo., this summer. Treatment for cancer is slowly becoming a memory. There is one memory, however, will not ever go away. "It's the kindness shown to us by the cancer center staff. It was just incredible."
Prostate Cancer Facts
Other than skin cancer, prostate cancer is the most common cancer in American men. The American Cancer Society (ACS) estimates for prostate cancer in the U.S. for 2018 are:
About 164,690 new cases of prostate cancer will be diagnosed.
About 29,430 men will die of prostate cancer.
About one in nine men will be diagnosed with prostate cancer during his lifetime.
Here's the good news… According to the ACS, when detected early, the survival rate for men with prostate cancer is almost 100 percent.
Patients who put their trust in the Southeast Cancer Center know they are receiving the gold standard in radiation oncology. Southeast Radiation Oncology holds national accreditation from the American College of Radiology (ACR), making it one of only eight facilities in Missouri to receive this recognition. Only about 500 centers nationwide have earned this accreditation.