Larry Strattman Has a Whale of a Tale to Tell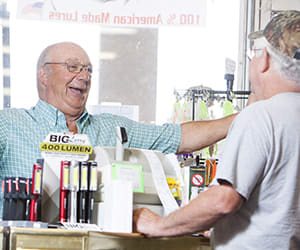 Larry Strattman has a whale of a tale to tell. The 68-year-old Cape Girardeau resident spends his "retirement" working two days a week at Foutz' Hunting and Fishing Shop. "Working here is part of my physical therapy," he says with a laugh. "It keeps me moving!"
Strattman used to own Strattman's Bass Pro Shop in Cape Girardeau in the 1980s before he decided to become an industrial technology teacher at Jefferson City High School and Cape Girardeau Central and Junior High Schools. He taught for more than 20 years before officially retiring. He was ready for a life of relaxation and regular fishing time when he woke up one morning in extreme pain.
"I sat up on the edge of my bed, stood up and fell to the floor screaming in pain," he recalls, shaking his head. "I couldn't take a breath it hurt so bad and it felt like someone had poured hot grease down my leg. I couldn't stand up or sit down, but my wife finally got me into the car and drove me to Southeast Hospital."
Hitting a Nerve
At Southeast Emergency Services, Strattman was given the bad news: His lower spine had degenerated to the point where several vertebrae had collapsed, causing pressure on his sciatic nerve and sending intense pain into his back and right leg. Compounding his problem was the fact that Strattman had undergone spinal decompression surgery several years prior for a herniated disc in his spine. With continued spinal degeneration, he was referred to Paul Tolentino, MD, PhD, a neurosurgeon and spine specialist with Regional Brain and Spine.
"There was significant degeneration of Mr. Strattman's spine at the level below where the first procedure was done and it was pushing on the sciatic nerve root," says Dr. Tolentino. "We talked about physical therapy and nerve blocks as ways to treat the condition without surgery, but Mr. Strattman was pretty active and we ultimately decided to do revision spinal decompression surgery so that I could completely remove the disc and bone spurs at two levels in the spine to make room for the nerves. I then had to stabilize the spine with instrumentation and restore alignment and balance."
Get Moving
Strattman underwent the procedure, called a posterior lumbar interbody fusion (PLIF), in July of 2015. Because early mobility is critical for a successful outcome, he was up and walking later that same day. "Early mobility helps minimize and prevent the development of pneumonia, bed sores, deep vein thrombosis and blood clots that are risks after this type of surgery," says Dr. Tolentino.
Rehabilitation depends both upon a patient's overall health and the extent of surgery. Some patients are discharged home while others are transferred to a skilled nursing facility. Strattman had inpatient physical therapy for several days and then was discharged to his home and told to start a walking program to get him back on the road to good health.
"I have my patients work on walking because it is important to restore as much mobility and range of motion as possible," adds Dr. Tolentino.
"I would like them to be able to walk three miles a day. If they can't meet that criteria after six weeks, I refer them to physical therapy."
Larry Strattman started walking from one chair to another in his home and then progressed to walking outside. Within several weeks, he was mowing the lawn. By fall, he resumed his fishing excursions and even went deer hunting.
"I knew my limitations," he stresses. "Each time I did something, I tried to push myself just a little bit farther so that I could get stronger."
Back to Work
He itched to swap fishing and hunting tales with many of his friends. In February of 2016, he decided to work part-time at Foutz' Hunting and Fishing Shop. Moving around, stocking inventory and talking with his customers became his best physical therapy. His only restriction? To minimize any arthritis progression in other levels of his spine, he can't lift heavy objects.
"There is nothing to be unhappy about now. I'm back to 80 percent of what I was before my surgery and my range of motion is pretty good," says Strattman.
On a recent weekday, a revolving door of customers came in to ask for fishing advice, share photos of recent fishing trips and challenge each other as to who caught the largest fish that week.
Strattman relishes the conversations and shares tips about where the fish are biting with those who come in to buy bait or look at the latest lures.
"I regret working only when the weather's good and I'd rather be fishing," he says with a twinkle in his eye. "life is good."