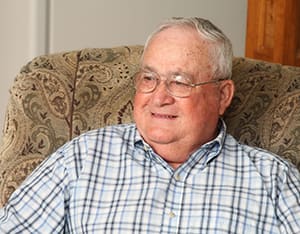 The quick actions of a waitress, who administered CPR while aided by one of Eddy's friends, the fast response of paramedics and ultimately the skill of heart doctors at SoutheastHEALTH saved his life. "The nurses and doctors were fantastic. They were wonderful to us," says Eddy's wife Carolyn, who seldom left his side while he was hospitalized at Southeast.
'It was a Miracle'
Eddy remembers little about the events of April 8, but he says that he's lucky to be alive. "I know it was a miracle. The good Lord really saved my life."
Retired from the Missouri Department of Transportation, Eddy prides himself on always being the first person to vote at his polling place.
The day of his cardiac arrest, he was at his polling place when it opened at 6 a.m. and voted first in a school board election. He then went over to The Depot for his usual morning coffee chat with his buddies.
"I don't remember voting. I don't remember going into The Depot," Eddy says.
When the ambulance arrived, Eddy was not breathing, recalls Phil Patterson, manager of the Mississippi County Ambulance District. Paramedics used a portable defibrillator to restart his heart and then transported him to Missouri Delta Medical Center in Sikeston, Mo. "He was sitting up and talking by the time we arrived at the Sikeston hospital," Patterson says.
"CPR kept him alive just enough so his heart could be shocked," explains Patterson. After being stabilized, Eddy was transported to Southeast Hospital where he underwent an angiogram performed by cardiologist Steven J. Carr, MD, of Cardiovascular Consultants (CVC).
'Severe Blockages'
"The angiogram showed he had severe blockages in all of the major arteries of the heart. Family history put him at a significantly increased risk of heart disease."
-Dr. Steven Carr
Cardiovascular surgeon George Berberian, MD, FACS, of Cardiovascular Consultants, says, "He wasn't in good shape." One of Eddy's arteries was completely blocked, and he had 80 and 90 percent blockage in two other arteries.
As a temporary measure, Dr. Carr installed a balloon pump, a mechanical device which helps the heart pump blood.
Bypass Surgery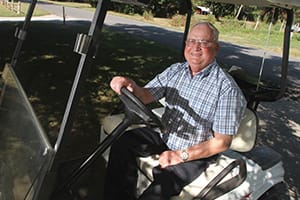 On April 9, one day after suffering cardiac arrest, Eddy underwent double bypass surgery at Southeast Hospital. Dr. Berberian, who performed the surgery, estimates it was about a three-hour procedure.
Nine days later, CVC cardiologist and electrophysiologist Gabe Soto, MD, PhD, placed an implantable cardioverter defibrillator or ICD in Eddy's chest. An ICD is a device that monitors and controls the heart's rhythm to prevent ventricular tachycardia, a faster-than-normal heart rate.
Dr. Soto says he did the procedure to help prevent a recurrent cardiac arrest. "Normally, an ICD would not be implanted following an acute cardiac arrest," he notes. But it was warranted in this case because one of Eddy's diseased coronary arteries could not be opened with angioplasty or surgical bypass, Dr. Soto explains.
Cardiac Rehab
On April 23, Eddy was transferred back to the Sikeston hospital for inpatient rehab. He subsequently received outpatient therapy at SoutheastHEALTH's Cardiac Rehab facility at the Sikeston hospital. Eddy underwent 36 outpatient therapy sessions from May 9 to Aug. 18, ranging from three days a week to twice a week.
The 77-year-old Eddy says he benefited greatly from the exercises. "I think it made a lot of difference. It gave me more strength," he notes, adding that he regularly walks near his home. "I walk a mile a day, sometimes two."
Dr. Berberian says cardiac rehab is an important part of recovery for heart surgery patients, both physically and mentally. "A lot of it is the will to survive. You have to want to get better," he notes.
Registered nurse Carla Glaus of the outpatient clinic in Sikeston says cardiac rehabilitation is a supervised exercise program where patients' heart rhythm, heart rate and blood pressure are closely monitored. Cardiac Rehab also offers education and support to help patients make healthy lifestyle changes, which include maintaining a healthy weight, eating a heart healthy diet and, in some cases, improving diabetes management, she notes.
"Cardiac rehab reduces stress and improves patients' ability to move around and maintain independence as they return to their activities of daily living," she explains.
A Positive Attitude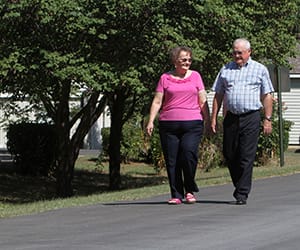 Glaus says Eddy displayed a positive attitude and carried a smile on his face at every therapy session. "He was an inspiration to all those he met," she adds. "He shared his story of recovery with others and encouraged others participating in cardiac rehab to keep going and never give up."
Eddy praises the outpatient rehab staff. "They were super at Cardiac Rehab," he says. Carolyn adds, "You can tell they really cared. They wanted to help you."
Eddy gives high marks to Drs. Carr, Berberian and Soto for their expertise and compassion. "I am so thankful for the doctors I had."
Carolyn says they couldn't have had a better cardiac surgeon. "Dr. Berberian had a great bedside manner." She adds, "The nursing staff was outstanding."
So too were other Hospital employees, she says. One of the Food & Nutrition Services employees regularly would sing when she brought Eddy meals while he was hospitalized at Southeast. "It perked him up. It just made his day," Carolyn says.
'Doing Great Now'
Eddy recently had a checkup with Dr. Carr, his cardiologist. "He's doing great now," Dr. Carr says.
Eddy's cardiac arrest and subsequent recovery has made a lasting impression at the diner. All of the restaurant staff has been trained now in CPR at the owner's expense.
These days, Eddy is a morning regular again at the diner, sharing stories with his friends. And next election, he plans to do as he's always done – vote first.