Lovin' Life in Spite of Lymphoma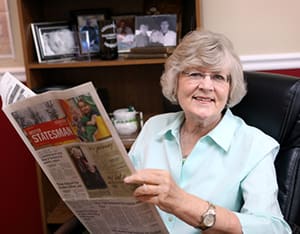 In her 11 years at The Dexter Statesman, managing editor Noreen Hyslop has written her fair share of news stories and features, ranging from personality pieces to city council meetings to cancer survivor victories to complicated court cases. Whatever the news of the day, Noreen was on it.
What she never considered was writing a feature about herself and her personal battle with cancer. But when readers opened their April 11, 2018 Statesman, Noreen was once again on the front page, this time sharing her personal cancer journey.
It was shortly after Christmas when Noreen realized she did not have her usual high energy level. She also was experiencing discomfort in her stomach and lower back. During a routine visit to SoutheastHEALTH physician Reza Jalal, MD, of Southeast Internal Medicine of Dexter, Noreen mentioned her symptoms. Dr. Jalal immediately ordered a CAT scan, followed shortly thereafter by a second, then an ultrasound. Within two weeks, she was at Southeast Hospital in Cape Girardeau undergoing a biopsy.
The results were far from what Noreen and Arlan, her partner of 11 years, had hoped for. Noreen had Stage IV non-Hodgkins small B cell lymphocytic lymphoma, a cancer of the lymph nodes.
Although the cancer diagnosis came, as Arlan puts it, "a kick in the gut," Noreen is personally familiar with cancer and its effects on the entire family. Including her parents, she is the sixth in her family of 10 to receive a cancer diagnosis. The youngest of her seven siblings died at 45 of non-Hodgkins lymphoma.
More Surprises
Noreen was referred to the Southeast Cancer Center and hematologist/oncologist Andrew Dickey, MD. "It's a bit daunting to put your life in the hands of someone younger than your children, but Dr. Dickey's confidence and compassion made it an easy transition," she says. "Some well-meaning friends suggested that I should choose a metropolitan cancer center, but I'm very glad I chose Dr. Dickey."
"Dr. Dickey is so compassionate and kind," she continues. "My first appointment lasted 44 minutes. He takes all the time we need, always asks if we covered everything."
"When Noreen was first diagnosed she had large lymph node masses in her abdomen that were causing her to be very symptomatic. The decision was made to treat her with an upfront chemotherapy-based regimen to try and rapidly reduce the cancer burden."
Andrew Dickey, MD
However, after additional blood work, Dr. Dickey revealed Noreen had a chromosome abnormality known as "17p deletion." He explains. "17p deletion is seen in about 10 percent of patients with Noreen's type of lymphoma (small lymphocytic lymphoma). This is where patients are missing a portion of this chromosome that helps to suppress cancer growth." That 17p deletion is typically associated with shorter duration of response to chemotherapy and quicker relapse in this type lymphoma.
"Noreen received two cycles of a chemotherapy-based regimen with good resolution of her symptoms, and then was switched to Imbruvica, which has been proven to be a more effective long term treatment against the 17p deletion," he adds. Imbruvica, an oral form of targeted therapy, "targets a specific intracellular pathway in the malignant cells. It has proven to be a very effective treatment in certain lymphomas."
With the steady hum of a police scanner in the background outside Noreen's managing editor's office, she, as a veteran journalist, can recount her medical cancer journey with surgical precision. It's when the talk turns from the medical cornucopia of CT and PET scans, chemo, blood work and more that a different Noreen emerges – a woman with undying faith, optimism, love of family and a touch of humor.
Sticking to the Prayer Theory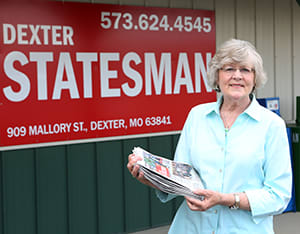 Noreen recalls after her first infusion chemotherapy, she left the Southeast Cancer Center feeling better than she had in a long time. "When I came back the next day to complete the infusion, I told one of the nurses that I credited it to all the prayers being lifted in my name, to which she replied, "I'm afraid it was the steroids we gave you before the chemotherapy.' I told her I was sticking to the prayer theory."
Noreen admits that while she is optimistic about the future, "I've not been without my pity parties. I've come to believe we're all entitled to a couple of those along this journey. You come to realize, though, to look forward and not back and to appreciate every day as the gift that it is – and to hope those gifts keep coming."
Maintaining a sense of normalcy also is important to both Noreen and Arlan. "We're getting through it together, better than I thought," Arlan says. "I thought I wouldn't plant a garden, but I did. I thought I wouldn't go fishing, but I do." Noreen adds, "The last thing I want is for everything to stop."
Now, it's not so much stop as full steam ahead. After four months of treatment that included two chemotherapy treatments and now Imbruvica, Noreen underwent a PET scan earlier this summer. Miraculously, there were no signs of lymphoma in her full body scan.
Noreen and Arlan were overjoyed. They are looking forward to hikes with their "hiking crew" friends in a remote, beautiful area of northwest Arkansas, along with canoeing and fishing. Noreen, an expert nature photographer, hopes to capture fall splendor. She will remain on Imbruvica for now and will have another PET scan in a few months to make sure all is well.
Along her journey Noreen has made new friends, including a fellow cancer patient who is a 15-year survivor of lymphoma. "He slipped me a piece of paper bearing five little words that I try to live by these days," she says. "Scrawled on a half sheet of paper are the words of my newfound 75-year-old friend – "Fear starts where faith stops."