Lymphedema Therapy Keeps Hayti Businesswoman Moving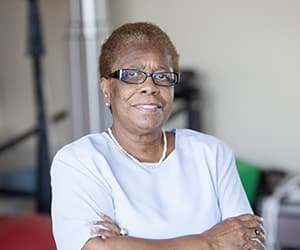 Bobby Carter drives 200 miles round trip every time she comes to SoutheastHEALTH for treatment for lymphedema. The 67-year-old from Hayti, Mo., says the skilled care she receives is worth the more than two hours in the car she drives each time.
"I used to come every day when I first started treatments," she says. "Then it was three times a week. Now I come for treatments on and off to keep myself well."
Carter is a self-motivator. The owner and director of Carter Funeral Home, she has been caring for the deceased and their families since 1994. Three years ago, she woke up one morning and found her leg was swollen.
"I didn't think anything of it at first," she says. "I took a water pill and kept going. Then the other leg swelled up."
At first, her doctor thought the swelling was due to Carter's blood pressure medication and changed her prescription. The swelling, however, got worse. " My legs were so swollen, they doubled in size. "
"I couldn't bend my legs hardly at all and the skin on my legs was very hard and tight."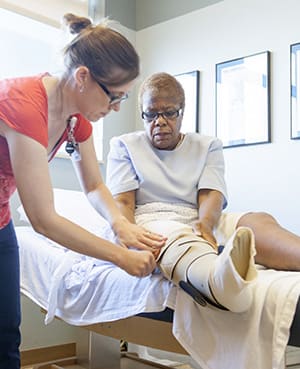 Carter persisted, seeking medical advice from doctors practicing as far away as Florida. She was examined for an abdominal aneurysm, blockages in her urinary tract system and even heart problems. In 2015, after two years of seeking an answer, a vein specialist finally diagnosed her with lymphedema.
System Malfunction
Lymphedema, characterized as a chronic, lifelong condition, is caused when there is an injury to – or malfunction of – the lymphatic system in the body. The system is a network or series of vessels that move or drain waste and fluids from the body and is vital for the body's immune response. If the system malfunctions, fluid builds up in the tissues, resulting in swelling and painful hardening of the skin in the legs or arms.
It can be caused by a congenital malformation of the lymph nodes or by injury or surgical removal of lymph nodes, which occurs for some cancers and, in particular, breast cancer. Women who have undergone radiation therapy to treat their cancer in addition to lymph node removal are at an even higher risk for developing lymphedema.
Carter did have a history of cancer, but it is unknown in her case if radiation triggered the lymphedema years after her cancer was treated. In talking with a nurse at the Southeast Cancer Center, Carter was told about a specialty clinic at Southeast HealthPoint Rehabilitation that focused on lymphedema care and symptom management.
Managing the Symptoms
"I was persistent because I knew something could be done," Carter says. "Once I learned that there was a clinic specifically for lymphedema, I immediately asked my doctor for a referral."
The Southeast HealthPoint Lymphedema Clinic is in high demand because of its consistent track record in helping patients learn how to manage their symptoms. Leading the clinic is Certified Lymphedema Therapist Angela Garrett, DPT, CLT. Garrett evaluates every patient referred to the Clinic. "We go over a patient's medical and family history and their lymphedema symptoms," says Garrett. "I also measure and track leg circumference and check volume measurements for the arms.
Patients learn to self-manage their lymphedema in a variety of ways. The core of the management program is Complete Decongestive Therapy (CDT), which helps to decrease swelling. "It's the gold standard of lymphedema management," says Garrett.
Vast Difference
Carter, who was determined to attend a family wedding pain free, started lymphedema therapy last August. "I couldn't believe that such a light massage would help me at first," she says with a smile. "But within four days, I noticed a vast difference. I drove here every day and by the time I went to the wedding, my swelling had gone down and my shoes fit. I was very happy."
Over time, Carter reduced the number of trips from Hayti to Cape Girardeau from five days to three days a week. She now comes to the Lymphedema Clinic every few months.
"She is a great patient because she understands the importance of doing the self-manual lymph drainage massage and wearing her compression garments every day," says Garrett. "When she came in the first time, I couldn't move the skin on her legs at all because of the tightness of her skin. They were so hard and swollen, the skin felt like a rock. With a few weeks, though, the tightness got better. We continue to see improvement every time we see her."
Carter took charge of her care and was taught the manual lymph drainage massage technique. She purchased a pneumatic compression device for her legs, which she uses every night before she goes to bed. In the morning, before she leaves her home, she puts on compression stockings.
"'Can't' is a very defeating word," she explains. "I've been told that this is a lifelong condition and I will have to work at it to keep me moving. Because of that, I make the time and the effort to do all the steps necessary to keep the swelling away.
Carter adds, "For me, the Lymphedema Clinic has been wonderful. I think I receive excellent care and I give them an A+!"