Michelle Clippard's Courageous Journey Toward a Heart Transplant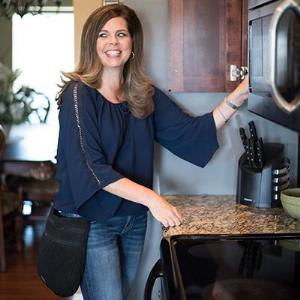 Michelle Clippard carries a stylish Vera Bradley purse over her left shoulder. She says, "It has important things in it, like my driver's license and credit card." But there's more.
It also contains two batteries and a controller for her Left Ventricular Assist Device (LVAD), a mechanical pump that is implanted inside a person's chest to help a weakened heart pump blood and do its job. She wears it during the day and evening before connecting to another LVAD while she sleeps.
Michelle's story began in 2004 while she and her husband John were expecting their third child, Matthew. It was while she was in labor at Southeast Hospital that she was diagnosed with third degree heart block. "I had experienced shortness of breath and fatigue, typical in pregnancies, and these symptoms masked the serious heart issues."
"I was in the Cath Lab getting a pacemaker while I was in labor," she says, wryly adding that she may hold the title locally for "coming home with a new baby and a new pacemaker."
A New Hurdle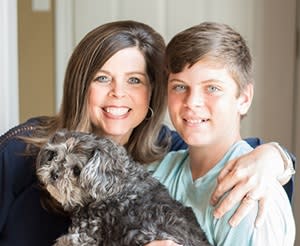 Fast forward four years. With Matthew now a busy toddler, Michelle started feeling pulsations in her neck. Her pacemaker was "interrogated," which is a process to make sure the pacemaker is working correctly. It was determined that Michelle was in a sustained ventricular tachycardia. She was rushed from Cardiovascular Consultants to Southeast Hospital and that's where she met the doctor "I trust my life to," Gabe Soto, MD, PhD, a Board-certified, fellowship-trained electrophysiologist.
Dr. Soto explains. "I met Michelle in August of 2008, when she was admitted to the hospital with V-tach, which is an unstable electrical rhythm sometimes seen in people with heart failure. As part of her testing, during her hospitalization, we found that she did in fact have heart failure, which for her was a new diagnosis. And her heart function was much weaker than what it had been in the past. We stabilized Michelle with a combination of medications and a surgery that upgraded the pacemaker that she had at the time to one that "shocks" the heart back to its normal rhythm if the need arises. And she significantly improved."
Michelle's life once again returned to a normal routine of work, school and sporting events and weekends that were never quite long enough to squeeze in everything for her active family. In August of 2014, she experienced severe shortness of breath. When Dr. Soto measured the function of her heart he found the ejection fraction (measurement of the percentage of blood leaving your heart each time it contracts) to be an alarming 10 percent.
"Patients who are candidates for advanced therapy, such as heart transplantation or left ventricular assist devices, require a much higher level of care over a longer period of time. One of the leading centers is Washington University in St. Louis. We referred Michelle to the Cardiac Transplantation and Advanced Heart Failure Program at Washington University, with whom we've had a good close collaboration over the past few years."
- Dr. Soto
He explains that the collaboration with Washington University, formalized in February of 2017, "allows us to offer many aspects of care here, to residents of Cape Girardeau and the surrounding communities. In fact, the collaboration entails an Advanced Heart Failure Clinic that will be set up onsite at Southeast Hospital, with physicians from Washington University coming here to see patients close to home."
The only option for Michelle at this point, Dr. Soto says, was an LVAD in addition to her pacemaker and medications.
A Life Changed
"Life has changed with the LVAD," Michelle says. "There are things I can't do, but it also has given me back my life. I can go shopping. I can walk and not be out of breath. I can attend my kids' sporting and school events." She and John also traveled to Murray State University in Murray, Ky., for a very special event – to see daughter Megan, a nursing student, in her white coat ceremony.
She adds with a smile that there is an "upside" to life with an LVAD. "I can't vacuum or do the laundry." John jokes that "I asked the doctors and nurses if she put them up to that." All joking aside, John and Michelle say they are thankful for a huge family support system nearby. "We put our trust in God and Michelle's physicians," he says.
Michelle continues to embrace an upbeat attitude, despite her health concerns and the ups and downs that have come with them. "I would not be here today without the care and concern of Dr. Soto and the doctors at Wash U. My family and I are forever grateful to the care that Dr. Soto has given me and for the care that I continue to get on my journey to a transplant."