Mike Myer Enjoyed Good Health & A Healthy Lifestyle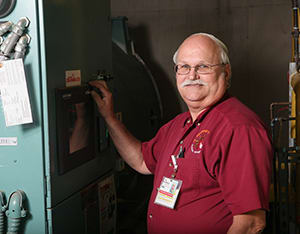 Mike Myer enjoyed good health and a healthy lifestyle. But when the Southeast Hospital boiler room supervisor woke up one morning to find the room spinning in circles, he knew something was not right. His family rushed him to Southeast's Emergency Department and it was there, after some tests, that Mike learned he had suffered three bleeds on his brain stem. The prognosis is far from good – 99% of people who have one bleed on the brain stem die.
Thanks to his excellent medical team, Mike made a full recovery. "They told me I was a lucky man," he says. "I was also lucky to be at the right place, at the right time. The doctors, and everyone, did wonders with me."