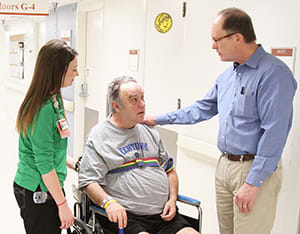 Dick, who has a bad heart valve, says he was fortunate to be at Southeast Hospital when he suffered his stroke on March 4 after undergoing an angiogram.
He was hospitalized for 42 days, most of that time in Inpatient Rehab. The stroke was on the right side of his brain, affecting the muscles in his left arm and leg. His wife Linda says, "He was not able to move his arm and leg." Dick remembers, "I had no feeling on my left side."
Initially, he also had slurred speech, recalls Linda. She adds that his speech "cleared up" within less than a week. "We are so fortunate that he kept all of his memories."
Stroke 'Changes Everything'
Still, recovering from a stroke is a challenge even for an active person like Dick. "A stroke is a terrible thing. It changes everything in your life," Linda notes.
But both Linda and Dick credit Southeast's Rehab staff for putting him on the road to recovery. "We could not have been happier with the staff," he says.
"The nursing staff and the therapists were great," adds Linda.
'A Lot of Encouragement'
Dick says Southeast Hospital Inpatient Rehab physical therapist Carol Hemmann helped him get moving again. "She gave me a lot of encouragement and she got me up and started again on the road to recovery," he points out.
Hemmann recalls, "Mr. Wadlington always gave 110 percent, no matter how he felt.
He nearly always had a smile on his face and he would encourage other patients. It was easy to encourage him just by showing him the progress he was making on a day-by-day or week-by-week basis."
Dick, who recently turned 69, spent five weeks in Inpatient Rehab. He was discharged from the Hospital on April 15. Home Health staff made follow-up visits to his home.
Since May, he has been receiving outpatient rehab at Southeast HealthPoint Rehab. At first, he did outpatient rehab three days a week. By this fall, he was down to once a week. He walks with a fourprong cane and has increased use of his left arm.
"I was treated well at Southeast Hospital and continue to receive great care at HealthPoint. They've treated me pretty special. They have done wonders for me."
- Dick Wadlington
Physical Medicine and Rehabilitation physician Matthew Karshner, MD, sees both hospitalized patients and those receiving outpatient therapy at HealthPoint.
"I really like him," Dick says of Dr. Karshner. "He cares about his patients."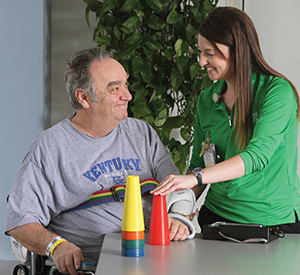 Dr. Karshner says Dick continues to recover from his stroke. "He has made wonderful gains." Dr. Karshner adds that Dick has a positive attitude, which can significantly impact recovery. "Dick's attitude has helped maximize the results of his therapy," he explains.
A Positive Attitude
Hemmann, the physical therapist, says, "The keys to success for a stroke patient are just what Coach had – a positive attitude, a great work ethic and a very supportive family." She adds, "He would never back down from a challenge."
Dick continues to meet the physical challenges of recovering from a stroke. A former driver's ed instructor at Cape Central High School, the longtime Cape Girardeau resident expects to be able to drive again.
He also hopes to return to the golf course and once again swing away.
For a reminder of the signs of stroke and action to take, download The Stroke Sheet at our Stroke Center page. Share copies with family and friends. Keep the sheet close by for reference.