On the Road Back to Heart Health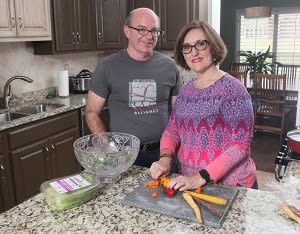 The day started with its normal routine for medical oncology nurse Sherry Delph. It quickly changed to a matter of life and death when she suffered a rare form of heart attack known as Spontaneous Coronary Artery Dissection (SCAD).
"I thought I was having heartburn," Sherry recalls, "but within 30 seconds I was in excruciating chest pain." Her colleagues called 9-1-1 and started monitoring her heart. When the paramedics arrived to transport Sherry to Southeast Hospital, she went into cardiac arrest. She was shocked three times while in the ambulance and then in the emergency room.
While in the Cardiac Cath Lab, board-certified, interventional cardiologist Chizor Iwuchukwu, MD, discovered that Sherry had a large tear in a small branch of her left coronary artery that measured almost two inches in length. It was SCAD.
Doctors don't know what causes SCAD, but the following are predisposing conditions:
Being female
Women who have recently given birth
Connective tissue disorders
Systemic inflammatory conditions
Fibromuscular Dysplasia
In many cases like Sherry's, the cause is still unknown.
Sherry's treatment included medications and blood thinners, along with wearing a portable cardiac defibrillator that monitored her heart function for two months after she left the hospital.
A runner before her heart attack, Sherry is now back to jogging and working our several days a week. She and husband Mitch have also pledged to work toward a healthier lifestyle, which includes working with a nutrition coach to create healthier meals.
Sherry realizes she is one of the lucky ones. "I've learned that life is precious," she says, "and that you are not always guaranteed tomorrow. I'm doing my part to live healthier and enjoy life."