Ruby Hayes, 102...and counting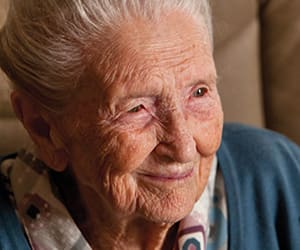 Editor's note: After a remarkable 103 years that included raising a family, hard work and countless contributions to her church and community, Ruby Hayes died in June of 2017. This feature is a tribute to a fiercely independent woman, gently weathered by the years, who never lost her optimistic outlook.
Bloomfield, Mo., resident Ruby Hayes doesn't let her age slow her down too much. "I've lived here by myself for 55 years," she says. "And I drove my car until I was 99 years old." The fact that she is now 102 years old makes her just shrug her shoulders.
She tends a large garden in the back of her home from spring until fall, cans most of her own vegetables and picks up pecans whenever they are scattered about in her yard. "If I raised it or grew it, I probably canned it," she says with a soft laugh as she proudly displays colorful jars of pickles, beets, tomatoes and onions.
For her family, the goal is for Ruby to remain as independent as possible. A former nurse aide, she grew up during the Great Depression. In the early 1960s, she and her family ran the Hayes Café in Bloomfield, Mo., until they finally sold the business. As her children grew up and moved away from home, she traveled all over the United States, mostly by bus, and witnessed to fellow riders along the way.
Last January, Ruby was hospitalized for pneumonia – one of the few times she says her health faltered. Then, this past summer, Ruby suffered a minor stroke. "I came to take her to church on Sunday and she didn't answer the door," says her son Dean, 69, one of Ruby's nine children who range in age from 50 to 81. "I came in and found her on the tiled bathroom floor. Her left side was sagging and her speech was a bit off. So I called the ambulance and they took her to Southeast Health Center of Stoddard County in Dexter, Mo."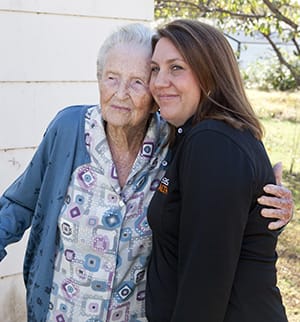 Eager to regain her independence, Ruby and her family turned to Southeast Home Health – Dexter.
"None of us kids are young, either," Dean says matter-of-factly. "We really wanted someone to help us check on Mom and keep her as active as possible. Home Health was very, very helpful to all of us."
Krystal McGowen, a physical therapy assistant, was one member of the Home Health team who took care of Ruby. "We worked on simple exercises that would help Ruby regain her mobility," she says. "We'd also walk down the street to build up her strength and endurance. Speech therapists also worked with her to regain her speech. Of course, we also all had the goal of getting Ruby back to the garden she loves so much."
Within weeks, Ruby was back to canning her fall harvest and raking leaves. On her front porch on a sunny day this past November were two full buckets of pecans. "Sure, I picked them up myself," she laughed as she stood under her own pecan tree.
McGowen, who returned recently to check on Ruby, shook her head in wonder. "She is more active than most people half her age," McGowen says. "We're so proud of her."
"They really did so much for me and I'm very grateful," says Ruby. "They are like family now and I love them too."