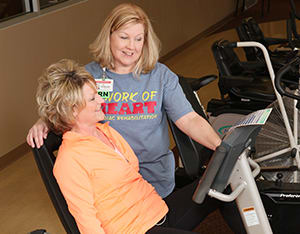 Last fall, Willa narrowly escaped becoming yet another statistic in the growing concern of heart disease among women. And she has taken the lesson she learned from that experience to heart.
Looking at Willa, first you would never guess she is 49 or that several years ago she battled a weight problem. Determined to lose weight, she was placed on a prescription diet medication by her physician. It worked. She lost weight. She felt great. Until a crisp fall day in October, that is.
A Funny Feeling
Willa was bustling around the salon she manages when she realized she just didn't feel right. "I had a funny feeling along both arms, pressure on my chest and pain between my shoulder blades." Even though a concerned co-worker urged her to seek medical attention, "I kept insisting it was indigestion."
Ultimately, Willa was rushed to Emergency Services at Southeast Hospital by her husband Randy and one of the couple's sons. They are parents of Nicholas, 25, and Aaron, 22.
"When we got to the ER, it was pretty much a blur for me," Willa recalls. "The staff had me hooked up to a monitor and in a bed within 10 minutes." And, she says, "I still kept insisting it was indigestion."
Even though she and her family were frightened, Willa says she can't praise Southeast's ER team enough. "They told us everything that was going on and what was going to happen next." As luck would have it, the cardiologist on call was David Law, MD, of Cardiovascular Consultants, a client of Willa's. "I always joked with him that I never wanted to see him at his place," she says. "But when I saw Dr. Law and then later in the Cath Lab, Danny Conrad – a registered nurse and also a Willa client, – I knew everything would be OK."
Danger of Diet Pills
In the Cath Lab, Willa says she was shocked nine times. "So, with nine shocks, how come I didn't get curly hair?" she jokes. Fortunately, an angiogram revealed no problems inside Willa's heart. Rather, the damage was outside her heart. And the shocker, she says (no pun intended), "is that this was most likely caused by the diet pills."
"Everybody wants what they think is the easy way out to lose weight. It's well known and documented that every prescription diet drug has potential serious effects and can cause dangerous heart problems."
David Law, MD
Now an outspoken activist about the dangers of diet pills, Willa is grateful to have her health back, even though she is now on long-term medication.
Willa says she has shared her experience at Southeast "with everyone. I tell them, if something happens, you will be treated fantastic!"
During her three days in the hospital, Willa's family never left her side. The care they received from everyone was far beyond expectations. "The staff was always popping in to see if there was anything they could do to make our stay on the Cardiac Progressive Unit better."
Regaining Confidence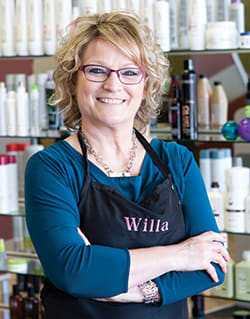 Willa also took Dr. Law's advice and participated in the nationally-accredited Cardiac Rehab program at Southeast.
"Willa came into Cardiac Rehab fearful to move, thinking that might trigger another event," notes program Nurse Manager Anita Smith, BSN, RN. "Our trained staff reassured her and monitored her heart closely throughout the 12-week, outpatient, monitored program. We gradually increased her exercise until she reached optimal levels for health and wellness. Willa is continuing with a regular exercise program and is making positive improvements to her health."
Willa makes good use of the pedometer each patient receives and has regained the confidence needed to return to work, travel and enjoy all of her pre-event activities of daily living. "She has become a strong advocate for heart health and has made her health a priority in her daily life," Smith says.
"I love those girls," Willa says of the Cardiac Rehab team. "We've become friends. I walked with the Southeast team at the annual Heart Walk." She continues to take advantage of Cardiac Rehab through a fee-based program, noting, "I feel at home there. I feel safe there. Cardiac Rehab gave me my confidence back."
Overall, the care she received at Southeast in all areas was exceptional, Willa says. "From the time I walked in to the time I walked out, I was family. I was treated with respect."
Now, with the warm weather months here, Willa is enjoying the outdoors, playing with her dogs, Gordon and Wrigley (Yes, like the field. She is a big Cubs fan.), gardening and enjoying nature, especially hiking with her husband at Giant City State Park near Carbondale, Ill.
"I was scared. I won't lie about that," Willa confesses. "But like my daddy used to say, 'If it's going to happen, just put a smile on your face and keep going.'" That's what Willa did – and with remarkable results.