Support and Comfort in Time of Need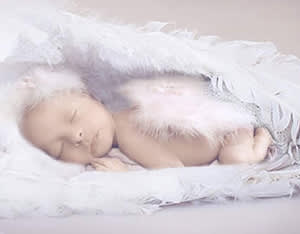 Makenna Wright is a healthcare professional who is very experienced in critical care situations. As a nurse anesthetist, she is trained to monitor and react quickly to changes in a patient's vital signs and condition.
But when her first child was born, the intricacies of critical care were the furthest thoughts in her mind. "Throughout my pregnancy and delivery, there was no indication that anything was wrong. Although our little girl was born at 34 weeks, she seemed perfectly healthy. When she was delivered, she was taken to the NICU, but was soon off the ventilator and taking breast milk. In fact, little Westlyn was doing so well my husband went to work the next day," said Makenna.
That next day, the unexpected happened—Westlyn suddenly became ill and coded. Makenna and her husband were rushed into the NICU and watched as Dr. Caruso and his staff did all they could to save Westlyn's life, but it was not to be.
"These are people who I know as fellow employees at Southeast. And, because of my healthcare background, I know how hard they worked to save her."
At this point in Makenna and Kenyon's ordeal, the Share Program stepped in to assist the family. "They took pictures of Westlyn and made molds of her hands and feet. I have a teddy bear and handkerchiefs with her foot prints. Share also cared for my family as they arrived to say their goodbyes. They even provided story books for the young relatives to help explain what happened, said Makenna. Those items are among the few cherished mementos the family has of Westlyn's short life.
The Share staff continued to be there for Makenna when she returned to work and had to care for patients on the obstetrics floor. "Sometimes it was so hard to walk into a room to assist other women in labor and delivery. So many memories would come rushing back. The nurses would comfort me and help me through the moment."
After losing Westlyn, the Wrights were blessed with another baby girl named Oaklyn. "My second pregnancy and delivery was nerve wracking, said Makenna, "but my nurses and physician understood and were so responsive to our fears. Oaklyn was never taken from my side after she was born. The nurses took care of everything they needed to do with her right in my room."
Each year, Westlyn's ornament hangs on the Christmas tree located in the Southeast Hospital Obstetrics Department. This memorial tree is just another of the many valuable ways Share provides ever- continuing support to those special families who celebrate the holidays without their little ones.
Because the Wrights are so appreciative of Share's compassion and expertise in working with families who experience the devastating loss of a child, Makenna is happy to promote the service and raise money for the program. "We participate in the Share Walk each October and encourage other families to do the same. I sell Share t-shirts to friends and family to support the cause and I love making decorative bassinet sheets for Share to use," Makenna noted.
Learn more about the Share Grief Support Services.