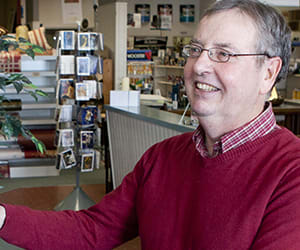 Steve, who along with his twin brother Mark operates a home-decorating business in Cape Girardeau, was diagnosed with colon cancer in 2013 after undergoing a colonoscopy at the urging of his family doctor.
Successful Surgery
On Dec. 9, 2013, W. Ray Silliman, MD, of Cape Girardeau Surgical Clinic performed surgery at Southeast Hospital to remove the cancerous section of Steve's colon and several lymph nodes, which also proved cancerous. Dr. Silliman removed about eight inches of Steve's colon.
"Patients should seek care from a physician who does colon surgery routinely," he advises. "I do 50 colon surgeries a year or about one a week," he adds.
With Steve's cancer having spread to his lymph nodes, additional treatment was needed. On Jan. 13, 2014, Steve began receiving chemotherapy as prescribed by Medical Oncologist Andrew Moore, MD, of Southeast Hematology/ Oncology.
"Coordinated treatments, ranging from surgery to chemotherapy and/or radiation, provide the best approach to fighting all types of cancer."
Andrew Moore, MD
Both Drs. Moore and Silliman also recommend colonoscopy screenings for anyone over the age of 50. Such screenings allow for earlier detection of colon cancer when it can more easily be treated, they explain.
Infusion Therapy
Steve underwent infusion therapy once every two weeks for six months at the Southeast Cancer Center. After each treatment, he returned home, hooked up to a portable infusion pump that provided 46 hours of continuous, low-dose chemotherapy. The small pump, housed in a fanny-pack-type bag, allowed Steve to carry on with his life, including working at his store, while receiving the added treatment.
Steve's many long-term customers regularly asked about his health. "A lot of my customers were concerned," he recalls. Going through such treatments can be challenging for patients. But Steve says he appreciated the beauty of the Cancer Center with its abundance of artwork and natural light. "The Cancer Center doesn't feel like a hospital," he notes.
In treating the cancer, Dr. Moore sought to disrupt Steve's lifestyle as little as possible, which included working at his store and playing tennis. "I think it is important to keep as much normalcy as possible," Dr. Moore notes.
The Personal Touch
"All the doctors were great," Steve adds. "Dr. Moore told me that they work as a team." Steve was impressed with the Cancer Center staff too and their personal touch to cancer care.
He praises Journey Guide Angie Tygett, RN, who provides emotional support for patients during their treatments. "Angie brought me tennis articles because she knew I like tennis," he points out.
Steve says he remained optimistic about his condition throughout his cancer journey. "My wife Diane did all the worrying," he notes.
Dr. Moore says a positive attitude like Steve's can help patients cope better during the cancer journey. As an oncologist, Dr. Moore pays close attention to how his patients cope with cancer. "You have to treat patients as a whole, not only the physical being, but emotionally and spiritually as well," he observes.