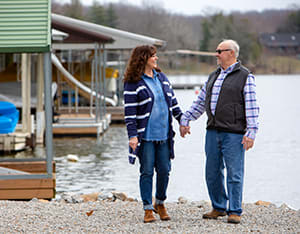 Gary Stevens and his wife, Debbie, look out onto the shores of Lake of Egypt and count their blessings.
"I don't take anything for granted now," says Gary. "You appreciate everything and everyone after what we've been through."
Gary is a walking "miracle man," according to the cardiovascular staff at SoutheastHEALTH. The 66-year-old is recovering from major heart surgery after unknowingly suffering a heart attack almost two years ago.
"It started with severe heartburn," he recalls. "I went to both my primary care physician and a cardiologist near his southern Illinois home and both kept treating it like it was indigestion at first."
But his pain didn't get better, and when he asked for a cardiac stress test six months later, the results were shocking. "They told me I had a heart attack and half my heart was no longer functioning," Gary says.
What was more shocking is that Gary was outside mowing their lawn when the call from the doctor came in. "I answered the phone and the nurse asked me where Gary was," says Debbie. "I told her he was outside and she told me to get him right away because they needed to speak with him and it wasn't good news."
Gary had a family history of heart disease. His father passed away from a heart attack at age 60; his mother had to have a pacemaker implanted, but she lived to age 95 before she passed away. Fifteen years ago, Gary himself underwent cardiac catheterization to check for any blockages in the blood vessels leading to his heart. "My arm was hurting and I told Debbie that the watch on my arm started to feel heavy," Gary says. "When the doctors got a look at my blood vessels, they had to implant several stents because my arteries were almost completely closed."
But with no high blood pressure or high cholesterol and Gary living a fairly active lifestyle, he went on with his life. "Outwardly, he looked and felt just fine until he started getting the heartburn," says Debbie, "We had no idea what was going on with his heart then."
Doctors performed several tests to evaluate Gary's heart, including measuring how well his heart — and specifically his left ventricle (the main pumping chamber of the heart) pumped blood to the rest of his body. That amount of blood, called the ejection fraction rate, or EF, normally is between 50 and 70 percent. Below 40 percent is considered to be a marker for heart failure. Gary's heart function was just 19 percent.
"I was in shock for a long time," admits Gary. "I was given medication to see if my heart would get better and I just went back to living my life."
He soon began having vision problems and was out of breath and fatigued most of the time. "He couldn't walk up and down to our boat dock," says Debbie. "He didn't even feel like fishing or boating."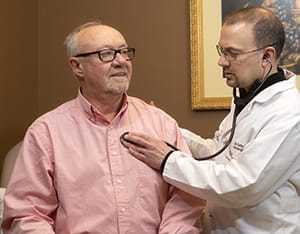 After months of taking medication, Gary's doctors referred him to Board Certified Cardiologist Gabriel Soto, MD, PhD, of Cardiovascular Consultants in Cape Girardeau. An electrophysiologist who specializes in interventional cardiology and heart failure, Dr. Soto recommended a cardiac catheterization to look closer at Gary's heart and arteries.
"We knew Mr. Stevens had heart disease and clearly, there had been a progression," says Dr. Soto. "We needed to look inside his arteries to see where things stood."
The day of the cardiac catheterization, September 1, 2018, started normally. "We had come to Cape the night before, went shopping at the mall and went out to dinner," says Debbie. "The next day, walked into the hospital and Gary was taken back to the cardiac catheterization area for his procedure."
What Dr. Soto saw was what is called severe multi-vessel disease, involving all three of Gary's major arteries and surrounding blood vessels. "Some of the arteries were close to being completely closed," says Dr. Soto. "Other arteries had completely closed but his body had formed bypass blood vessels on its own. His heart function, his EF rate, was about five percent. When we injected contrast dye to see the blockages, it showed up dramatically."
Gary actually was in a state of early cardiogenic shock, a condition when the heart can't pump enough blood out to the rest of the body. In simple terms, Dr. Soto describes the condition as "not having much gas left in the tank." "With this degree of coronary blood flow insufficiency," he says, "people with this sudden condition usually spin out of control quickly."
In the waiting room, Debbie was told that Gary's EF rate dropped below five percent and that her husband needed emergency quadruple bypass surgery. "They told me I needed to call our kids because it was not good and that his condition could take a turn for the worse, even with surgery," says Debbie with tears in her eyes. Their two children, along with Gary's sister and niece, rushed to Southeast Hospital.
Back in the cardiac catheterization room, Dr. Soto immediately started intra-aortic balloon pump (IABP) therapy. "We inserted a balloon device up through his leg and into the aorta that automatically inflates and deflates while the heart beats to help it pump more blood," he explains.
It is a highly specialized procedure and not available in some hospitals. With IABP, however, Gary was stabilized and then underwent open heart surgery the next morning to clear away the blockages and implant more stents.
"Everyone was amazed that he survived the surgery after they realized how severely his heart was damaged," Debbie says. "They really did call him a 'miracle man'."
After he was discharged from the hospital, Gary began physical therapy and cardiac rehabilitation. Successfully completing cardiac rehab, he still works out seven days a week — three days at the hospital in Marion, Il., and then four days at a fitness center near his home.
"The lesson is that heart disease is something that you have to monitor over a lifetime, especially if you have an established of heart disease. Be aware of what is normal and what is not normal. There may not be any major symptoms, but if something doesn't feel right, it's important to be in close contact with a heart doctor."
- Dr. Gabriel Soto
I think that's what we'd say, too," says Debbie. "We felt something was wrong and kept pursuing answers. I never would have dreamed that it was as bad as it was, but I'm so thankful for Dr. Soto and the rest of the heart team who cared for Gary."
As for Gary, he says, "We've got two grandchildren and I'm determined to keep healthy. After all, I've got a lot of boating and fishing to do now that warmer weather is here."