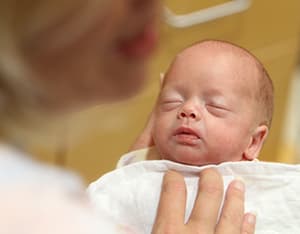 Born on July 25, 2014, Braya was 12 weeks premature and at birth weighed just one pound, 11 ounces.
Mom Melissa Clark's pregnancy was progressing normally until an upset stomach and headache caused her to visit the Emergency Department at Union County Hospital in Anna, Ill. There she was diagnosed with high blood pressure – so critically high that it was at stroke level. She was quickly transferred to the Obstetrics Unit at Southeast Hospital, where she was under the watchful eye of SoutheastHEALTH Obstetrician Heather Cugini, MD, and the experienced OB team.
Melissa was placed on medication to hopefully prolong the pregnancy as long as safely possible. But things can, and did, change quickly. Six days later, the baby's heart rate began to drop and an emergency C-section was performed by Dr. Cugini with a team of nurses, respiratory therapists and SoutheastHEALTH Neonatologist Paul Caruso, MD, standing by, ready to care for their tiny Braya.
"I remember making my last phone call, letting my family know what was happening at 5:19 a.m. Braya was born at 5:35 a.m."
- Melissa Clark
When she first held Braya, Melissa admits she was scared. "It was like holding a kitten. But I remember one of my nurses saying these little miracles are tougher than they look. That was reassuring."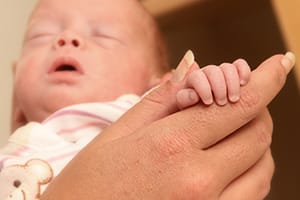 Fortunately, Braya was intubated and on a ventilator for just one day. During her 56-days in the NICU, Braya received specialized respiratory and feeding support, allowing her to grow and thrive. Dr. Caruso explains that Braya remained in the NICU until she was big enough to keep her temperature in the normal range, nurse all of her feedings while consistently gaining weight and breathing without additional oxygen – "everything a term baby is expected to do.
Prior to bringing their baby home, all NICU families are taught infant CPR and spend considerable one-on-one time with NICU nurses. "When Braya left on Sept. 18, she weighed four pounds, 10 ounces. She was still small and requiring special attention. However, she was healthy and doing well. We want to make sure every family is completely comfortable with having their baby at home," Dr. Caruso notes.
Because Dr. Caruso and the NICU staff make every effort to see that parents are close to their baby throughout the baby's stay, Melissa, of Thebes, Ill., roomed in at the Hospital until she returned to work. She is grateful that her employer in Anna, Ill., worked with her to ensure that she could travel to Cape to feed and be with Braya on a regular basis.
Tiny 'Star' on NICVIEW
Because Braya's dad Patrick Pearman could not be at the Hospital as regularly as Melissa due to the seasonal nature of his work, he was pleased to have the NICVIEW webcam. "He was on the camera at every opportunity," Melissa says, as was big brother Keaton Pearman, who is 7. "The camera was especially a godsend for my grandmother," she adds. "She was ill and could not come to the Hospital, but was able to meet Braya via the camera. Seeing the baby really lifted her spirits."
Melissa also took full advantage of NICVIEW. "I could get on at any time, at home or at work, and see her. That's really reassuring, especially when you're not close by."
Experience Counts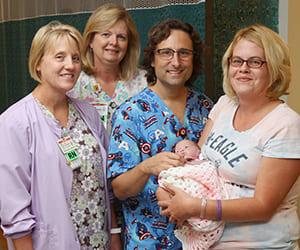 Melissa says she is grateful for the experienced OB and NICU staff. "I wouldn't be in any other place for care. The nurses are awesome. They were like my second moms. Without the nurses and Dr. Cugini, we wouldn't be here. They saved my baby and they saved me."
Knowing that Braya would arrive much sooner than expected, Dr. Caruso made sure Melissa knew exactly what would happen after her birth. "I was a nervous wreck. When she was delivered, I was scared, but I knew that with Dr. Caruso and the nurses she would be OK. I slept well at night knowing Dr. Caruso was there to take care of Braya. I truly believe that God chose Dr. Caruso to do this job."
Patients at Southeast are treated like family, Dr. Caruso says. "We understand how important it is to have parents actively involved with the newborn's care. At Southeast, we believe in providing family centered care that includes the family with all aspects of care as much as possible. This helps babies thrive." Braya's grandparents Sherry and Eddie Clark of Thebes, Ill., held Braya for the first time on Sept. 18, the day of her discharge. Cuddling Braya, Sherry says, "I asked my friends, 'Do you believe in miracles?' I hope you do, because they still happen."