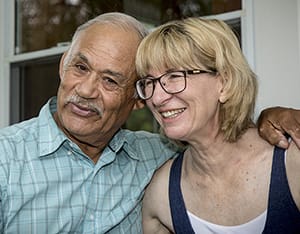 Her husband Lauro Falcon is a warm, genuine man who is not one to sit still for long. "I am like knick-knacks," he quips. "I'm everywhere."
It was uncharacteristic for Lauro to feel bad, but on the night of Jan. 28, 2017, Joann sensed that something was wrong. It certainly was. Without warning, Lauro went into sudden cardiac arrest. Luckily, Joann started immediate CPR, continuing that until paramedics arrived and rushed him to Southeast Hospital.
70% of Americans do not know how to administer CPR or have forgotten earlier training.
Board-certified cardiologist Steven Carr, MD, and SoutheastHEALTH cardiothoracic surgeons, quickly determined that Lauro was not a candidate for surgery. Instead, and thanks to a device called a left ventricular assist device – a pump that is put in through the leg to help support the heart muscle – Dr. Carr and the expert Cath Lab team were able to fix three of four blocked arteries. During Lauro's three weeks in the hospital, which included being placed on a ventilator and a medically-induced coma to help his heart heal, Joann says, "We're so grateful to Dr. Carr. The care, the ability to put not only the stents in, but also the little machine that helped his heart beat – all these things were at Southeast Hospital."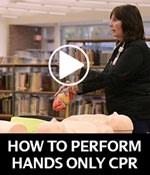 Dr. Carr says Lauro's "amazing recovery is all because of bystander CPR from his wife. If he had not received CPR immediately, he would have never made it to the hospital to have everything else done for him."
Survival rates drop by 7 to 10% for every minute a person goes without CPR.
"Dr. Carr is my guardian angel," Lauro says. "He did a fine job because I am still kicking." On a more serious note, he adds, "There are some things that you see in life that you will never forget – Dr. Carr's smiling face, always talking to me in a positive way."