Two Milestones – Big Ones!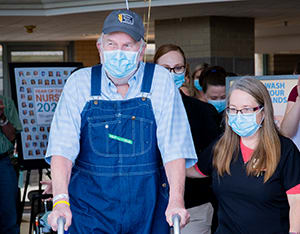 Edgar Dreyer celebrated his 85th birthday in the Intensive Care Unit at Southeast Hospital. And although 85 is a milestone birthday for sure, on May 26 Dreyer celebrated an even greater milestone. He was released from Southeast Hospital after being hospitalized for 57 days battling COVID-19. Of those 57 days, 20 were spent on a ventilator, followed by time in a step down unit and then about two and-a-half weeks on Inpatient Rehab, where Edgar worked hard to achieve his goals and return to home.
His family says the care their loved one received at Southeast was "exceptional." Edgar's wife Della said she called the hospital three, sometimes four, times a day to check on her husband. "Everyone was so nice, so caring. It's a miracle," she added, her face beaming with happy tears. Although visitors were not allowed into the hospital, Edgar's family kept up with him via FaceTime, with the help of Southeast staff.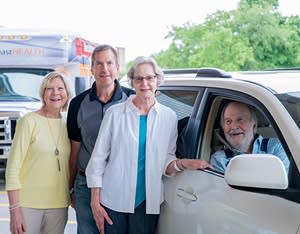 Edgar's team of Southeast caregivers gave him a celebratory send off, cheering him on as he left the hospital wearing his customary overalls and sporting a broad smile. "I love you guys," he said. "Thank you for everything you've done for me. It looked like this day would never get here, but it did, thanks to the good Lord and a lot of prayers."