COVID-19 Resource Center
Effective January 12, 2022
SoutheastHEALTH will not Test Asymptomatic Patients for COVID-19

We are experiencing higher than normal demand for services from sick patients, related to both COVID and non-COVID illnesses, particularly in the last few weeks. This is combined with supply issues related to COVID testing materials and the demand from asymptomatic patients for testing related to travel and employer requirements.

SoutheastHEALTH will no longer test asymptomatic patients. This is consistent with the actions and policies of other healthcare systems in the region and across the country. The hope is that this decision will allow us to use our resources to care for sick patients. We are committed to helping keep our community safe and we appreciate your understanding our need to treat sick patients quickly.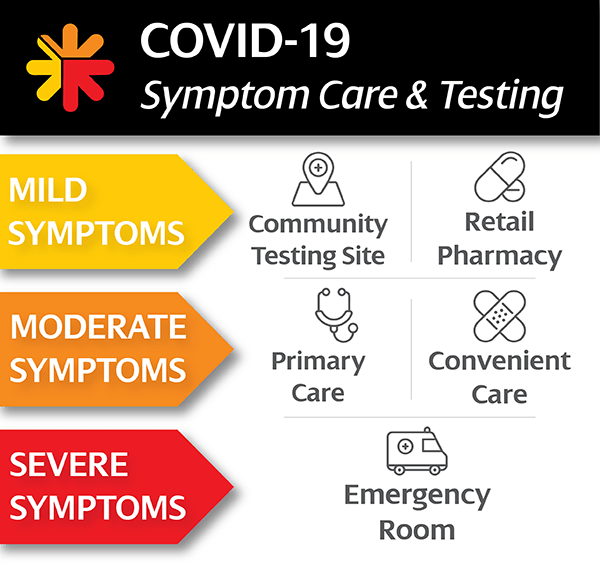 SoutheastHEALTH is committed to administering COVID-19 vaccines in a fair and equitable manner. Thank you for your cooperation as we work to keep our communities safe and healthy. As a pre-positioning site for the COVID-19 vaccine, we have deployed over 36,422 doses of the vaccine throughout southeast Missouri.
COVID-19 Vaccine Information
Scheduling a Vaccine
As SoutheastHEALTH continues our commitment to community health, we are offering Pfizer COVID-19 vaccine clinics every Tuesday and Wednesday from 8 a.m. to 12 p.m. in Suite 120 at Southeast Medical Plaza located at 1723 Broadway in Cape. You must have an appointment. Walk-ins will not be accepted. To schedule your vaccine, please call 573.519.4522.
Pfizer COVID-19 Booster Qualifications
A third dose of Pfizer-BioNTech COVID-19 vaccine may be administered for certain individuals 16 years and older with moderate to a severe immune compromise due to a medical condition or recipe of immunosuppressive medication or treatments including but not limited to:
Immune compromised due to undergone solid organ transplantation and taking immune suppressing medications
Immune compromised active treatment for solid tumor and hematologic malignancies
Immune compromised receipt of CAR-T cell or hematopoietic stem cell transplant (within 2 years of transplantation or taking immunosuppression therapy)
Moderate to severe primary immunodeficiency (eg., DiGeorge, Wiskott Aldrich Syndromes)
Immune compromised due to Advanced or untreated HIV infection
Immune compromised due to "Active treatment with high-dose corticosteroids or other drugs that may suppress immune response: high[1]dose corticosteroids (ie.,≥ 20 mg prednisone or equivalent per day), alkylating agents, antimetabolites, transplant-related immunosuppressive drugs, cancer chemotherapeutic agents classified as severely immunosuppressive, tumor-necrosis (TNF) blocker or other biologic agents that are immunosuppressive or immunomodulatory"
A Booster dose of Pfizer-BioNTech COVID-19 vaccine should be administered to the following groups at least 6 months after completing their Pfizer-BioNTech primary series (i.e., the first 2 doses of a COVID-19 vaccine):
People aged 65 years and older
Residents aged 18 years and older in long-term care settings
People aged 50–64 years with underlying medical conditions
A Booster dose of Pfizer-BioNTech COVID-19 vaccine may be administered to the following groups, at least 6 months after completing their Pfizer-BioNTech primary series (i.e., the first 2 doses of a COVID-19 vaccine), based on their individual benefits and risks:
People aged 18–49 years with underlying medical conditions
People aged 18–64 years at increased risk for COVID-19 exposure and transmission because of occupational or institutional setting*
First responders (healthcare workers, firefighters, police, congregate care staff) · Education staff (teachers, support staff, daycare workers)
Food and agriculture workers
Manufacturing workers
Corrections workers
U.S. Postal Service workers
Public transit workers
Grocery store workers
Vaccine Records
If you need immunization records for your COVID-19 vaccine, please contact Health Information Management at 573.651.5534.
COVID-19 Testing Information
We offer COVID-19 tests on an appointment basis at locations throughout the region. Both saliva rapid result and PCR testing are offered. Please call our COVID-19 hotline at 573.519.4983 for assistance.
Southeast Primary Care – 573.519.4500
Southeast Campus Clinic at SEMO - 573.651.2270
Southeast Convenient Care in Jackson - 573.755.2305
Southeast Family Medicine of Dexter – 573.624.7575
Southeast Family Medicine of Poplar Bluff – 573.778.0020
Southeast Bernie Clinic – 573.293.5336
Southeast Bloomfield Clinic – 573.568.3686
Southeast Malden Clinic – 573.276.2221
Southeast New Madrid Clinic – 573.521.2442
Southeast Sikeston Clinic – 573.931.8181
The Clinic at Walmart operated by SoutheastHEALTH – 573.614.4600
Saliva Testing
RT-PCR Saliva testing is available through Southeast Lab Services. Many airlines and travel agencies require this test for travel. Results are available on the patient portal within 48 hours. (Must refrain from eating, drinking, smoking or chewing gum 30 minutes prior to the test.)
How to Obtain a RT-PCR Saliva Test
Individuals WITH a Primary Care Provider - obtain an order from your primary care physician and pick up your kit from one of the designated Walk-in Lab Services locations.
Individuals WITHOUT a Primary Care Provider - Call Southeast Convenient Care at 573.755.2305 to schedule your test.
Companies/Organizations - Email lab@sehealth.org for more information to obtain bulk orders of the kit.
COVID-19 Resources
Symptoms Consistent With COVID-19
People with COVID-19 have had a wide range of symptoms reported – ranging from mild symptoms to severe illness. Symptoms may appear 2-14 days after exposure to the virus. Anyone can have mild to severe symptoms. People with these symptoms may have COVID-19:
Fever or chills
Cough
Shortness of breath or difficulty breathing
Fatigue
Muscle or body aches
Headache
New loss of taste or smell
Sore throat
Congestion or runny nose
Nausea or vomiting
Diarrhea
Do you have suspected COVID-19 symptoms?
SoutheastHEALTH is here to help. We have a 24/7 provider/nurse triage line, 573.519.4983. If you are having symptoms that may lead to a COVID-19 diagnosis, call this line to speak with a provider about your symptoms and next steps for appropriate treatment.
For more COVID-19 vaccine information, please visit Missouri Department of Health & Senior Services and for more information on COVID-19 related resources and closures in Cape Girardeau County, please visit KeepCapeStrong.com.
Questions? Email us your questions at marketing@sehealth.org or call the COVID-19 hotline at 573.519.4983. You may also chat with us online - Start Chat Now.