Staff Recognition
DAISY Award
The DAISY Award is an international program that rewards and celebrates the extraordinary clinical skill and compassionate care given by nurses every day. SoutheastHEALTH is proud to be a DAISY Award Partner, recognizing one of our nurses with this special honor on a regular basis.
Patients, visitors, nurses, physicians and employees can nominate a deserving nurse by filling out a DAISY nomination form and submitting it in the DAISY submission boxes on each unit or completing our online nomination form.
Award nomination criteria:
P. Passion/compassion for nursing and the care provided
E. Empathy in the situation
T. Trust and Teamwork of families, patient and peers
A. Admirable attributes possessed
L. Love for the patient and nursing profession
S. Selflessness
DAISY Award Winners
See all past DAISY Award winners.
About the DAISY Foundation
The DAISY Foundation was established in 1999 by the family of J. Patrick Barnes who died of complications of the autoimmune disease idiopathic thrombocytopenic purpura at the age of 33. DAISY is an acronym for the names of diseases that attack the immune system. During Pat's eight-week hospitalization, his family was awestruck by the care and compassion his nurses provided, not only to Pat, but to everyone in his family. So one of the goals they set in creating the Foundation in Pat's memory was to recognize extraordinary nurses everywhere who make an enormous difference in the lives of so many people by the superhuman work they do every day.
Sunshine Award
Award nomination criteria:
S. Shows passion for their patients, for others and their work
H. Honors the patient's needs above their own
I. Inspires others to perform at their best
N. Notable commitment in delivering exceptional care
E. Extends beyond what is expected
Sunshine Award Winners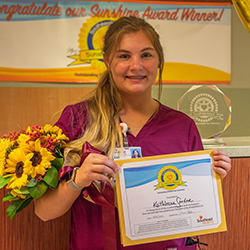 Kathleena (Kat) Snider, PCT
Cardiac Progressive
In recognition of giving great care and attention to patients and going above and beyond for coworkers, Kathleena (Kat) Snider, a patient care technician (PCT) on Cardiac Progressive, was honored as a recipient of the Sunshine Award at a ceremony on Oct. 27.
This award celebrates the exceptional care given by PCTs every day. Kat's co-workers cite her dedication to patients, willingness to help the care team and positive attitude.
Co-workers note that "Kat is always going above and beyond for her patients. It seems that she is always there before the patient actually knows they need something. Any time a team member is needing help, Kat is the first to lend a hand. When a team task is needed for one of her patients, Kat is always on top of things and tends to remind nurses of the task at hand."
Her nomination continues, "Kat tends to take a late lunch to make sure all her patients have eaten and are settled in for the afternoon. She is always on the run for our patients. It had been missed most of the day that it was a patient's birthday. Kat found out and with the nurse's permission got the patient their favorite snack from the cafeteria. She is the first to grab a cup of water or a blanket for a patient or family member.
"Kat always has a contagious positive attitude that spreads to team members as soon as she walks into the room. Kat also comes in on her days off to help the team out when needed, even for a couple of hours. She is dependable and is at work on time, if not earlier. It is always a joy to walk into work and see that Kat is helping care for our patients."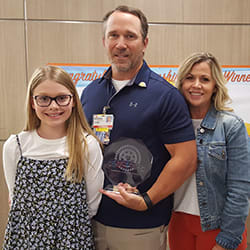 Keith Hente, PCT
Behavioral Health Unit in Dexter
Keith Hente, a patient care technician on the Behavioral Health Unit at Southeast Health Center of Stoddard County in Dexter, has been recognized with the Sunshine Award. This award, presented May 6, celebrates the exceptional care given by PCTs every day.
Keith's Sunshine Award cites his dedication to the Behavioral Health Unit and patients. His Sunshine nomination notes that, "Keith carefully monitors diverse safety demands on the BH unit and shows compassion when a patient needs 1:1 staff interaction for personal issues/complaints. He has brought in and donated clothing to homeless patients. He has given haircuts and helped patients prepare for interviews that determine discharge planning.
"Keith's sound judgement, physical fitness and direct personal involvement have been instrumental in many 'Dr. Strong' emergencies being safely and successfully executed. I have seen Keith on multiple times miss his scheduled lunch and eat late in order to help a patient with completing an application for housing or drug rehab. He always puts patients' needs first. His preeminent attention to detail has helped build this unit to the high standards expected since its opening."
Other nominees for the Sunshine Award were Kaycee Johnston, Oncology Progressive, and Bevin Flanner, Surgical Progressive.
Bevin Flanner, PCT
Oncology Progressive Care Unit
In recognition of giving compassionate and heartfelt care, Bevin Flanner, a patient care technician (PCT) on Southeast Hospital's Oncology Progressive Care Unit, was honored as a recipient of the Sunshine Award. This award, presented Jan. 29 by Oncology Progressive and Cardiac Pavilion Nurse Manager Jennifer Kiplinger, celebrates the exceptional care given by PCTs every day.
Bevin's Sunshine Award nominated cited her commitment to going above and beyond for oftentimes very ill patients. Her nomination notes that "time and time again, I have seen Bevin to out of her way to give patients one on one attention. I will never forget one patient who was very sick. He as on a BIPAP so he had a difficult time communicating when he was able to communicate at all.
"I heard a noise coming from his room one night so I peeked in to make sure he was OK, and there was Bevin, sitting at his bedside, holding his hand, and telling some funny story. And he was quietly laughing. This was maybe the only time I ever saw him smile. He passed away not long after that, but not before he expressed his gratitude for everything Bevin did for him. She made a difference in that man's life like she does for so many of our patients every day. I can't think of anyone who deserves this award more than Bevin."